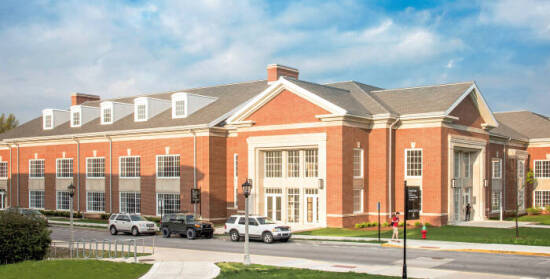 In a time of uncertainty, the need for support is greater than ever, with 89% of college students experiencing stress or anxiety as a result of COVID-19 according to a survey done by Active Minds.
Throughout the pandemic, the DePauw Counseling Services staff have been doing their part to demonstrate and communicate to students that mental health is a priority on campus by offering a wide range of free services including new services which emphasize group support spaces in addition to one-on-one counseling.  
According to a poll on The DePauw's Instagram conducted on March 16, 59% (44/74 responses) of students said they are aware of all the different services and resources DePauw Counseling Services offer and 44% (32/73 responses) said they have utilized them. 
Counseling Services Director Trevor Yuhas, PSY.D., HSPP said they saw a decrease in the usage of their services in the fall, attributing it to the virtual format and less students being on campus. However, they are seeing more of a demand this semester, which he said is typical for the Spring semester. 
Yuhas said he understands it is difficult for students to add another virtual meeting to their schedules with the majority of classes being held online. With that in mind, counseling services have been trying to add as much variety as possible to the services they're providing to students.
In the fall of 2020, DePauw announced a $2 million grant from the Buehler Family Foundation would be used to renovate the DePauw Health Wellness Center and DePauw Counseling Services to improve the mental and physical health of the campus community.
Much of the grant was used to renovate their physical space located in the Lilly Center. In addition to the individual offices, there is a brand new group therapy room as well as rooms dedicated to mental health education and relaxation.
While students have not been able to utilize the new space much due to the pandemic, the Counseling Services staff are looking forward to students being able to take advantage of this space soon. 
Until students are able to make use of the new facility, all services are being held online. The individual counseling services are the most widely used, but they are currently trying to grow their group programs.
"We know students are struggling with loneliness and isolation and not feeling connected to each other," Yuhas said. "So a lot of these opportunities are geared towards helping students connect with each other in a common space."
This semester, there are nine differentgroup and support spaces running that appeal to different aspects and groups of the students population, including groups for Womxn of color, student athletes, and those looking for ways to cope with anxiety and stress amidst challenging times.
Junior Cami Henry has participated in the body positivity and mindful eating group as well as one for open mindfulness and meditation. Henry said she began to take her mental health seriously last November, utilizing these groups in addition to individual counseling. 
"I've had a really positive experience," Henry said. "DePauw has made it really easy for me, especially with the financialside of things."
Sophomore D'Naira Wigfall has also had a positive experience with counseling services, saying she's seen a significant improvement in the person she is today since she started utilizing their services.
"I was always told that I wasn't supposed to cry or show emotion when I was younger, so I tried to be this stonewall for the longest time," Wigfall said. "As a result of consistently going to therapy, I've come to embrace the fact that I'm a sensitive person who is in touch with their emotions, and it is such a freeing feeling to be able to be 100% me and not try to cover up my feelings."
Along with the support groups, there are workshops held that also cater to a variety of groups on campus. On Wednesday March 17, a workshop titled "Racial Healing: Creating a Space for Wellness Throughout College" was offered, aiming to provide DePauw's students of color a safe space for racial healing. 
"We know that all of our students are struggling in many ways," Yuhas said. "But students of color have some unique and particular struggles they're facing, and we want to be able to offer some additional support there."
Zaheen Rashed, a first-year student who attended the workshop said she felt safe space was created and that a variety of valuable resources were provided.
"They taught us ways to meditate and explained important concepts such as microaggressions," Rashed said. "They also validated our feelings of exhaustion, and said that it's okay if you don't want to defend or talk about your race all of the time, and that burn out is normal."
Yuhas said that they plan to offer similar programming following this workshop, both to students of color as well as white students and allies.
Both Henry and Wigfall said they recommend engaging with counseling services to any student who is interested, with Wigfall calling it one of the best decisions she's made in her life.
"Taking the first step is always the hardest part, because a lot of people definitely struggle with even admitting that something is going on," Henry said. "And even if nothing is going on and you just feel like you need to talk to somebody, take that first step, and after that it gets a lot better."
To learn more about all of the different services and resources offered, visit DePauw Counseling Services' website.