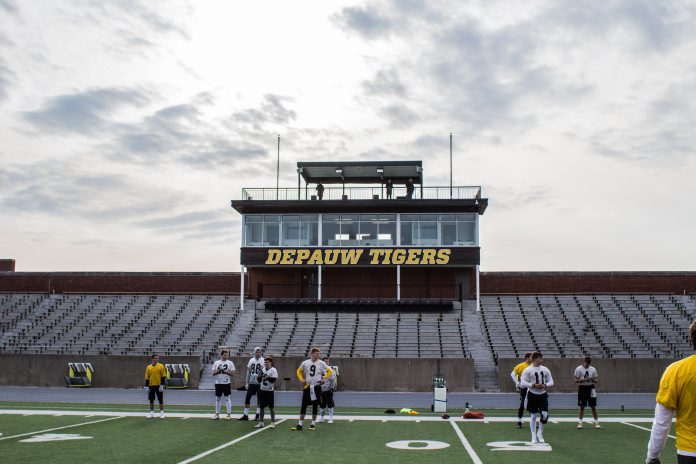 By: Bastien Weisbein
After 13 days of social media promotion and marketing, the Tiger Pride Campaign, a fundraiser for DePauw University athletics, raised $193,720 for the Tiger Club, a DePauw athletics donor program.
Best put in the words of athletic director Stevie Baker-Watson, "The Tiger Club is [DePauw's] fundraising arm in athletics that provides for expenses above and beyond the operating budget."
The money raised by the campaign was contributed by a total of 800 donors, part of which went to a sport of choice, while part went to a general fund, according to Baker-Watson. She said that donors could also donate directly to the general fund, without specifying an individual sport.
The Tiger Club does not normally have highly publicized campaigns like this, so Baker-Watson referred to the fundraiser as an "experiment." Conceptualized in January by the minds of the Development Office, the Tiger Pride Campaign would be the first of its kind at DePauw: a 13-day social media, crowdfunding event.
While the Tiger Pride Campaign worked out in the end, Baker-Watson remembers the stressful early days of the campaign. But as publicity grew, the volume of donations went from inconsistent trickling to consistent streams of upwards of 50 donors before the campaign ended.
Baker-Watson explained that, "On average, there are probably about 450 total donors to the Tiger Club on an annual basis, and we probably generate anywhere between $120,000 to$135,000," so the Tiger Pride Campaign was a deemed a success for bringing in about $194,000 and 800 donors.
Recently, the Tiger Club was responsible for the softball team's upgrade in the outfield: the new scoreboard. Coach Hanrahan thanked the support of alumni saying, "To be a benefactor is so thrilling for our team (and) for our fans."
As of now, Baker-Watson does not have a specific plan as to where the Tiger Pride Campaign funds will go towards besides enhancing the players' experiences through equipment renovations or team trips.