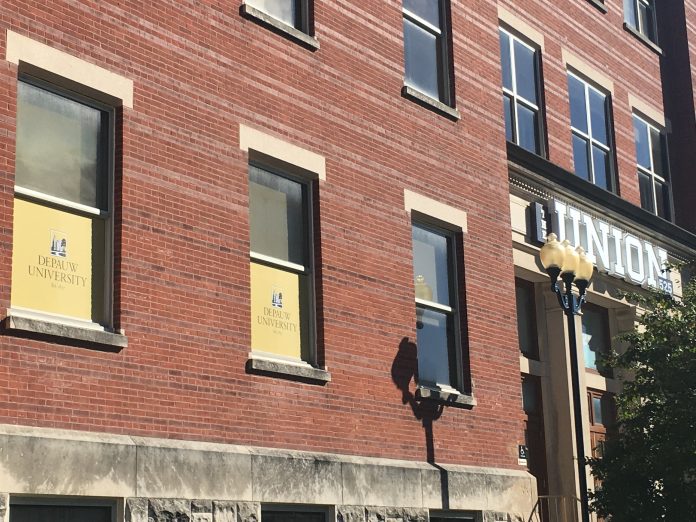 Originating as a long-term vision from DePauw University President Mark McCoy to maintain a relationship between DePauw and Indianapolis, a launch statement on DePauw's website states that on Nov. 1, The DePauw Campus Membership at Launch Indy and The McDermond Entrepreneurship & Tenzer Technology Extension in Indy were opened at the Union 525 building in downtown Indianapolis.
The Prindle Institute for Ethics also launched their own space in Union 525, according to Director of the Janet Prindle Institute for Ethics, Andy Cullison.
"Part of what we want to do is start having Prindle Institute and DePauw more heavily branded downtown (Indy)," said Cullison.
Giant murals of East College that cover the walls of the spaces remind visitors of the tie to DePauw, said McCoy.
Launch Indy is dedicated to the "growth of central Indiana's tech ecosystem," while the McDermond extension offers students the chance to "network and be right in the midst of the entrepreneurial and technological ecosystem of the greater Indianapolis region," according to the DePauw initiative launch statement.
The statement adds that both of these initiatives will serve to foster relationships between DePauw students and the Indianapolis business community, serve the alumni population in the city and promote the university's educational programs to potential students.
Prindle's space will function as a base of operation for student-led community engagement efforts, said Cullison. It'll provide an experiential learning opportunity for DePauw students where they can help with the ethics education of either side of colleges, K-12 ethics education and corporate ethics education, he added.
"We figured we'd be taken more seriously if we had some kind of presence there (in Indianapolis)," said Cullison.
The McDermond and Tenzor centers sponsored both initiatives through the Strategic Initiatives Fund, said Director of The McDermond Center for Management and Entrepreneurship, Steven Fouty. One of the strategic initiatives calls for presence in Indianapolis and Chicago, and it is funded by gifts from alumni that are specifically meant for growth and expansion, he added.
Since the Hubbard Center plans to use the Launch Indy space to host career-oriented events, they are also a co-sponsor to the initiative, said Fouty. But if DePauw admissions begins to use the space more to recruit prospective students and hold events, then funding will expand beyond funds from the McDermond and Tenzor centers, he said.
"No money came from our overall budget," said Fouty. "It all came from specific alumni donations for strategic initiatives."
Neither Fouty nor Cullison were able to disclose the exact costs of these initiatives.
"Not every business will come to Greencastle and interview students, and not every student can reach out to businesses in Indianapolis," said Fouty. "The idea is to have a networking space where we can network with businesses for internships and jobs."
Cullison said that the DePauw and Prindle's initiatives can overlap, where high school students take field trips to the to The McDermond Center to partake in business-related work and then work with Prindle on ethics-related work.
Other uses for the space include meetings between high school counselors and university admissions to provide information about DePauw to prospective students and a potential for faculty members to hold entire winter term courses dedicated to doing specific projects for businesses, added Fouty.
Many of DePauw's initiatives are covered by public unveilings, events, and ceremonies but the Launch Indy and McDermond initiatives were not. "It's always disturbing when initiatives happen that don't get wide press coverage," said professor of art and art history, Lori Miles.
Since DePauw's initiatives are currently being tested, it is not being heavily promoted, said McCoy. "Should this develop into larger and bigger things, we would certainly have a marketing campaign built around it."
"We wanted to roll it (DePauw Initiatives) out slowly and make sure we worked the kinks out," said Fouty. Making sure students can easily get in, that events could be scheduled and that parking was available needed to be worked out, he added.
Fouty said that the idea was to be quiet through the end of the 2018 fall semester and the 2019 winter term, and then get the word out when students returned in the spring. "We're really right on schedule," he said.
Jeannette Pope, Professor of Geosciences, said that she believes these initiatives come at a good time, especially to recruit prospective students. "Universally, DePauw does not have fantastic name recognition," she said. Properly representing DePauw will lead to more visits, thus more applications, she added.
The future of DePauw Initiatives is still unclear, as their leases only last one year, according to Fouty.
The centers' council and directors will meet and decide whether the DePauw initiatives are worth the money or not, which could lead to a situation where one center stays and the other does not, depending on how they are used, said Fouty. "My opinion is that both will move on."
Fouty said that these extensions could serve other visions that include life-long learning for alumni and a plan for students to live, work, and educate in Indianapolis for a semester: "I definitely think that's within the scope of what could become a reality. It's not a requirement, but we should explore the idea."
"Who knows where this (initiatives in Indianapolis) could go," said Cullison. "I just see significant growth for exciting, impactful experiential learning opportunities for students."