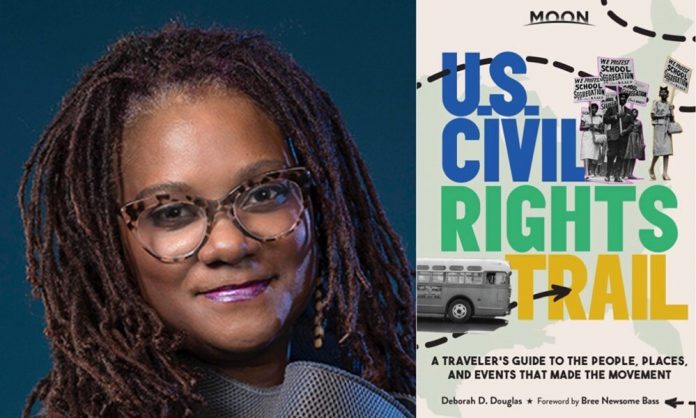 While many people may have a baseline understanding of the Civil Rights Movement, they may not always know the "nitty gritty details," according to Deborah Douglas, award-winning journalist and Eugene S. Pulliam Distinguished Visiting Professor.
"We may not always know specifically what was going on in the various cities I highlighted in the book, which is something that I tried to do, to make clear-- what were the particular tensions involved in each area that I went to?" Douglas said. "I put together exhaustive timelines to explain and contextualize that."
Douglas explores these details along with much more in her new travel guide and history book, "U.S Civil Rights Trial: A Traveler's Guide to the People, Places, and Events that Made the Movement," that she published in January 2021. 
The book follows the official path of the Civil Rights Movement that was established in 2018, making Douglas' book the first to pursue the newly formed trail. 
Not only will readers know the Black-owned businesses or festivals and events to hit as they travel to Little Rock or Atlanta, but will be traveling with purpose, as the book shares the histories, stories, and voices of the various places, people, and events she guides you too. 
Douglas said the original intention of her book was to just be a travel guide, telling the audience what museums, historical spots, or national parks to visit along the trail. However, as she embarked on her journey, she said, "It ended up being so much more than that."
While some travel guides focus on history, few do so in the level of detail as Douglas'. To her knowledge, her book is the first travel guide to cover a historical period in this way, where history itself is the theme. 
Douglas carefully scrutinizes source material from the movement, synthesizing facts and sharing her own impressions."I realized people write history and people have agendas," Douglas said. "I interrogated every source that I looked at and explored what their particular agenda was, and then I tried to parse the facts after making all of these considerations."
Not only does Douglas consider it a history book, but a "roadmap for resistance," where readers can "look at the story of people who were involved in the movement, how they thought about things, and how they strategized to figure out how you think about the issues, and then put those practices into play."
Douglas made connections between the Civil Rights Movement to the modern movements of today such as the Black Lives Matter Movement, providing resources about them in the book. 
Yet another unique addition to Douglas' book is the road-trip playlists she curated to go along with each chapter. Douglas said she "grew up on the road," traveling often from families' houses in Memphis, Chicago, and Detroit, where music was an important part of those journeys. The songs in the playlist are specific to each place featured in the book, such as Phil Ochs' "Ballad of Medgar Evers" that goes with the Mississippi chapter.  
While she traveled alone, the perspectives included in the book were not limited to hers, she made many friends along the way, whether they were experts, activists, or complete strangers.  Douglas said she took tours with official tour guides and talked to strangers to get a different perspective, then would explore more to try and understand that perspective. A question she would continually ask people was, "What do people in town know that people outside the town might not know?"
During the process, Douglas said she would think about journalists and other successful people she respects and think, "What qualities do they have?" She said she thought to herself, "I'm not rich. I don't work at a huge organization. I don't have people to do things for me, but what I do have is hustle."
Helis Sikk, a visiting assistant professor in the department of women's and gender studies at the University of South Florida and a former faculty member at DePauw, would argue that Douglas is among these successful people and journalists she herself speaks of. 
"I think she is such a powerhouse of a person," Sikk said. "DePauw is incredibly lucky to have someone as active in journalism as Professor Douglas to teach there. Students get to learn directly from one of the country's top journalists." 
Sikk said she is excited to read "U.S. Civil Rights Trail" soon, as Douglas "never disappoints."
Douglas said that her book is included as a required text for the travel writing class she is teaching this semester. Not only will her students learn from the history included in the book, but it will spark conversations on developing voice and the level of detail and specificity that is required for writing, all of which are evident in Douglas' writing. 
Junior Louise Gallup is a student in Douglas' travel writing class and is looking forward to reading the book not only because of the historical content but because of the chance to learn from her professor first-hand. This gives us the chance to absorb how the methods and devices Professor Douglas teaches us about in travel writing are executed," Gallup said. 
According to Douglas, many issues addressed in the Civil Rights Movement are still being worked on right now, such as voter suppression and the passing of the anti-lynching act. "I just hope that this book encourages people to have conversations with their family members and their friends because again, the book is about the past, but it's also about now," Douglas said.