Once every two weeks, curious climbers travel to Hoosier Heights for bouldering, belaying, and bonding. From novices to seasoned summiteers, students of DePauw from different backgrounds test their skills on the walls while making new friends.
Rock Climbing Club, led by President Ben Koelker and Vice President Seaton Sanders, offers students the opportunity to climb the wall and get to know new friends at Hoosier Heights, one of Indianapolis' premier climbing gyms. While the focus of the trips is to hone their skills on the walls, members of the club benefit from the time they spend with peers who have the same interests. Soph. Eli VanHaaren commented on the club community, saying "It's good to try things even without your friends… even the first day I met people there and got close to them." He also encourages other students to join the club as an opportunity to meet new people, saying, "It opened up my eyes to more people on campus… I do things outside of rock climbing with them…" He also mentioned how his newfound friendships with fellow climbers have, "...expanded past rock climbing."
Rock Climbing Club at its core is a space where students come together and enjoy each other's company. Vice President Sanders explained, "... we even have some people come who don't climb at all. They just come to hang out with their friends and chat, so it's more of a social experience than anything."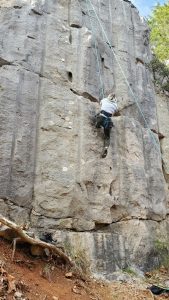 Before joining Rock Climbing Club, people often have an assumption that there are requirements to join. Sanders addressed this concern, claiming that the club is trying to get rid of the "stigma that people need a certain amount of upper body strength or athleticism to climb when that's not the case at all." The club is for anyone of any ability, and anyone can give it a try. The only thing you need, he explained, is the ability to hang on and climb a ladder.
Hoosier Heights features an expansive array of climbing walls, where members can attempt anything from speed walls to challenging horizontal routes. Climbers can personalize their experience and learn at their own pace. Everyone gets a chance to test their strength and focus on honing their skills with a wide variety of wall types and difficulty levels.
If you are interested in climbing and are worried about the possible dangers of the sport, Hoosier Heights provides safety courses to beginners so that they are prepared for obstacles they could face while climbing. Although trying something new may seem daunting, curious students should know that current members consider the student leaders and other members "super welcoming" and "very supportive."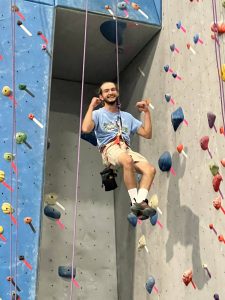 Rock Climbing Club welcomes any student regardless of past experiences or their climbing skills. They create a supportive environment so that students can learn some basics of rock climbing and enjoy time with other students. You can find more information on travel days and meeting locations on DePauw's Campus Labs website.