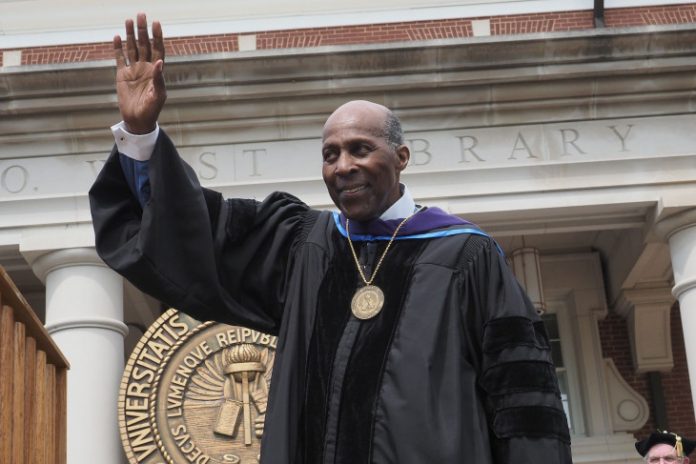 Civil rights leader and DePauw alum Vernon Jordan '57 died in his home surrounded by his wife and family on March 1, 2021.
Jordan held several influential positions as a civil rights activist. He worked as a field director for the National Association for the Advancement of Colored People and as a director of the Southern Regional Council for the Voter Education Project. Afterward, Jordan became the president for the National Urban League and has had several connections in American politics. He was a close advisor to former president Bill Clinton, and also worked with presidents such as Lyndon B. Johnson, Barack Obama, Ronald Reagan, George H.W. Bush and George W. Bush.
Jordan grew up in Atlanta, GA from 1935-1957, where segregation was rampant at the time. He attended all-Black public schools before being one of five Black DePauw University students at the time. While at DePauw, he was involved in the basketball team, wrote a play about experiencing racism in the South and served as vice-president of the Democratic club. He was a political science major with minors in history and speech.
"DePauw University nurtured my growth and maturity... if I had my life to live over again, I would return to this place," Jordan said, highlighted on the DePauw website's announcement.
After Jordan graduated from DePauw University in 1957 as the only Black student in his class, he studied law at Howard University with the goals of fighting segregation and racial inequity.
His career began with filing a lawsuit against University of Georgia's (UGA) integration policy in 1961 on behalf of two Black students. He joined the two students in going to the University of Georgia admission's office, persevering through the angry, predominantly white crowds. He helped the two students get admitted to UGA, thereby ending 160 years of segregation at the university.
In 1980, Jordan was shot in the back after emerging from a car in the Marriott Inn in Fort Wayne, Ind. He survived the assassination attempt, though he was in critical condition. He continued to work for several civil rights organizations even after this attempt.
In a tweet from former President and first lady Barack and Michelle Obama, the two stated that they "deeply admired his tireless fight for civil rights," and that they "hope the memory of his extraordinary presence and the legacy of his work bring comfort to Ann, Vickee, and his family."
DePauw alumni, faculty, staff and students mourn the loss of the powerful activist.
"DePauw University has lost a dear friend and the world has lost a determined leader," DePauw President Dr. Lori White said in the news announcement on the DePauw website. "He spoke loudly – through words and deeds – as a civil rights activist and quietly as a trusted counsel to presidents. DePauw is better for having had him as a beloved alumnus, and the country and the world are better for having him as a leader."