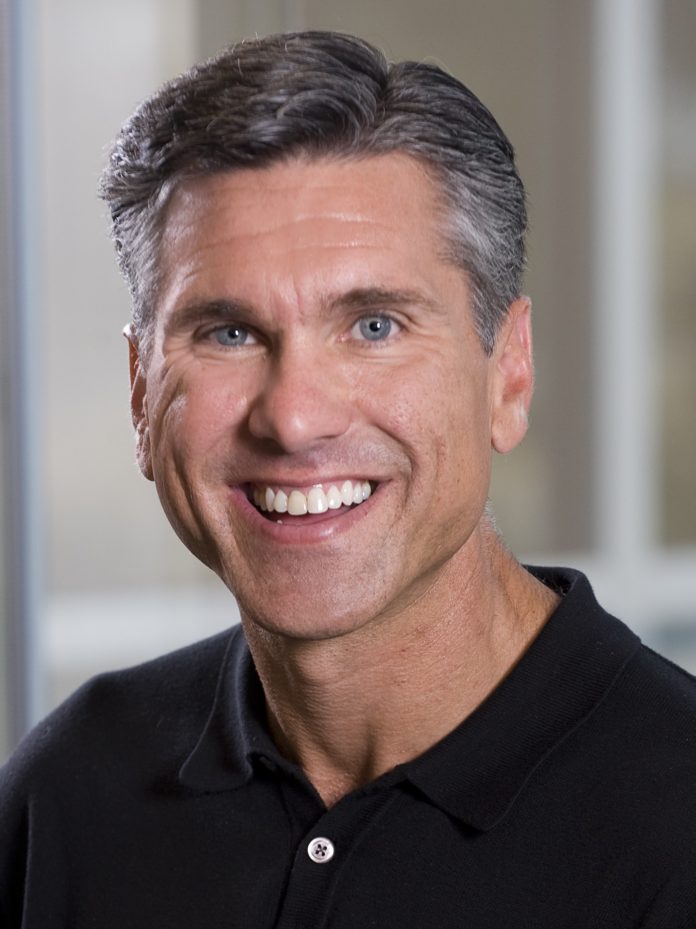 Jim Alling returns to DePauw University to speak at the 178th Commencement in May
After graduating from DePauw in 1983, he went on to serve as President of Starbucks USA and Starbucks International, Chief Operating Officer of T-Mobile USA and currently serves as the CEO for TOMS.
Executive Director of Media Relations, Ken Owen does not believe Alling's commencement speech will be a standard one. "He went to DePauw, understands the culture, and is a great advocate of our brand and what makes DePauw unique," Owen said.
At DePauw, Alling was a member of the Sigma Alpha Epsilon chapter and double-majored in Economics and Spanish before earning a master's degree in International Management from Thunderbird School of International Management in Glendale, Arizona, which is now a part of Arizona State University.
"He is a dynamic and impressive guy, he makes you feel good about DePauw and Corporate America which is hard to do in 2017," Owen said.
In years past, student opinion survey circulated to gauge and seek student's interest in varied commencement speakers. This year senior students did not receive a student opinion survey. Instead, a variety of DePauw student government members, including DSG Vice President Charlie Douglas and DSG President Claire Halfield, created a list of potential commencement speakers at the start of the 2016-2017 academic year.
DSG members compiled a list with over 50 desired speakers before handing it over to President Mark McCoy and the Board of Trustees for review. President McCoy is pleased with the final selection.
"I think Alling is an excellent choice for a lot of reasons, he has had a career of multiple successes and makes a great impact on the world," President McCoy said. "He is the epitome of the DePauw spirit."
In March 2007, Alling was selected to participate in the Ubben Lecture series while serving as Starbucks U.S. President. At the time, Alling was responsible for more than 10,000 retail locations, sales of more than $7 billion, and more than 125,000 employees. Alling also served as Starbucks International President overseeing more than 5,000 stores in 45 different countries with a system of sales over $4 billion.
http://https://www.youtube.com/watch?v=m8NoVaZVkCg
Before he was named TOMS CEO in April 2016, Alling worked as COO of T-Mobile U.S. for five and a half years. In this role, Alling was responsible for a subscription base of more than 44 million users and the 34,000 employees who directly served them.
As President of TOMS, Alling works alongside TOMS CEO and Founder, Blake Mycoskie. Mycoskie was scheduled to speak during the Spring 2014 Ubben Lecture series, but the lecture was cancelled due to bad winter weather.
Student leaders involved in the selection process were under the impression that DePauw will pay for a commencement speaker's lodging, food, and travel but that the University does not have a set annual budget to pay commencement speakers.
Owen confirmed that DePauw paid for the last two commencement speakers in 2015 and 2016. However, he stated that when the University pays for commencement speakers the funding is drawn from outside sources.
Owen realizes there is a wish list for people like Barack Obama and Oprah, but certain speakers are not feasible without an annual budget set aside for commencement.
"There were some people on the list that would have commanded money but at the end of the day we are looking for someone who can connect with you guys," Owen said. "I think Jim's speech will really deliver."
Both Douglas and Halffield are excited to welcome Alling back to DePauw for commencement.
"I feel like past couple of years we have had someone who is an activist, but this year, with everything that went on with the elections, I like the fact that we didn't pick someone who is politicized," Douglas said.
Halffield also wanted to stray away from inviting a politically influential keynote to speak at commencement and believes that Alling will deliver a good speech that is applicable to the DePauw community.
"From what I have heard he is really excited to come and has made it a priority to be in attendance at commencement," Halffield said. "We had some hope for other people as well but he is a good choice and the best option we had."
The 178th commencement will begin at 10:30 a.m. on May 21 in the Holton Memorial Quadrangle.