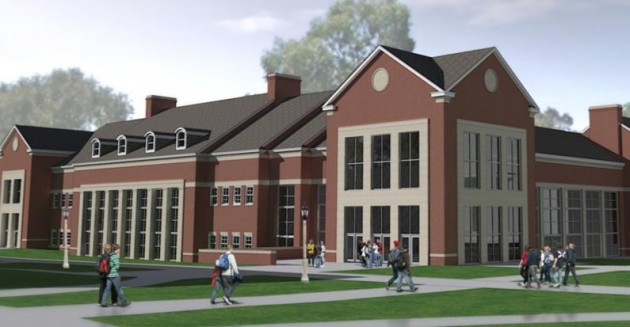 President Brian Casey returned from the annual DePauw University Board of Trustees meeting over the weekend with four significant announcements and a big smile.
With over $31 million in donations from Board members and other donors, Casey said he felt "ahead" on the university's seven-year plan.
While gifts to improve properties on Anderson Street, East College Lawn and Athletic Facilities rolled in, Casey said contributions to the university's endowment and Center for Student Engagement marked a positive turn in the capital campaign.
Casey said initial gifts in university capital campaigns tend to go toward buildings, and more visible monuments.
"Now you can start seeing the shifts to endowment scholarships and programs," Casey said.
A $20 million gift to the university's endowment to be used for need-based financial aid marks the greatest of the gifts.
$20 million for need-based financial aid endowment
Timothy H. and Sharon W. Ubben (both '58) gave a $20 million gift to the university's endowment to dole out financial aid to students.
The gift to the endowment is one in a long line of generous donations first established by the Rector endowment and Rector Scholars program in 1919.
"This university has been a part of our lives for many years, and it is a privilege to be a part of its future," Ubben said in a press release. "Sharon and I have always believed that the opportunity to see the impact of your gift is one of the most rewarding experiences, which is why this gift means so much to the both of us."
Career preparation in Center for Student Engagement
Casey announced that Kenneth W. and Carrie Melind Coquillette (both '82) gave $2 million to fund new programming in the Center for Student Engagement that will focus on career preparation.
The Coquillette gift will create an endowment and a discretionary fund that will allow for more programming and staffing enhancements. Specifically the gift will provide for the creation of the "Sophomore Year Experience," during which students will be able to receive guidance on scholastic and professional plans. Also, peer counselors known as Coquillette Fellows will work with students on career plans, in addition to the professional staff.
"For DePauw to be successful in its mission and continue its legacy as an incubator of leaders, it is critical for our students to proactively plan for life beyond this campus and to understand the opportunities available in the global economy," Ken Coquillette said in a press release.
Improvements to historic houses and East College Lawn
Board of Trustees member Jane L. Emison put forth $1 million dollars to renovate three historic properties along Anderson Street. The homes are protected under the National Register of Historical Places and will be re-invigorated to reflect their previous states.
"DePauw's new entrance creates an incredible first impression for visitors to this University ... It is my hope that the restoration of these properties will add to the beauty of the University's entrance, and that the scholars and artists living within them will enrich the culture of this campus," Emison said in a press release.
The row of properties, to be referred to as the Emison University Residences, will house visiting speakers and professors. The renovations are scheduled to be completed in the Fall of 2013.
Douglas I. Smith ('85) and his wife Ann Smith committed $1 million to restore the grounds surrounding East College.
Casey said the gift will be the equivalent of the Anderson Street renovation project of the East College lawn, introducing new trees, irrigation, lighting and brick pedestrian pathways.
"I simply can't imagine DePauw without thinking of East College and the grounds that surround it," Smith said in a press release. "The beauty of the DePauw campus is striking, but it must be nurtured and restored. Ann and I want to make sure that these grounds, in the academic core of our campus, match the extraordinary contributions made by the faculty and students who walk them."
The restoration process will begin over the summer and will be completed before classes begin in the fall.
Improvement to Athletic Facilities
Two anonymous donors gave a total of $7 million dollars to support Phase One of the University's Athletics and Recreation Facilities Master Plan. The gift adds to a now $22 million committed to the project.
The Board of Trustees approved the Athletics and Recreation Facilities Master Plan, which projects a more than $25 million facility renovation to the Lilly Center, including a 36,000 squre-foot expansion.
The construction of the M. Scott and Kimberlee A. Welch Fitness Center, a 16,000 square-foot facility that will serve varsity sports as well as provide the primary recreational fitness facility for students, faculty and staff, will begin as early as April.
Construction of a multi-sport stadium, made possible by a donation from Marshall W. ('84) and Amy Reavis, will begin this spring. Along with the installation of synthetic field turf at Blackstock Stadium, which was made possible by an anonymous donor.
"Our goals are two-fold," Stevie Baker-Watson, director of Athletics and Recreational Sports said in a press release. "We want to provide championship quality venues for our student-athletes and fans, and we want to ensure that our campus community has access to exceptional fitness and training facilities. Thanks to the generosity of our donors and the leadership of our Board, we will make both of these goals a reality."
Enhancements to the new field at Blackstock Stadium are projected to be complete prior to the 2013 season. The multi-sport stadium is set to be complete in Spring 2014 and the renovation of the Lilly Center is scheduled to be complete in August 2014.