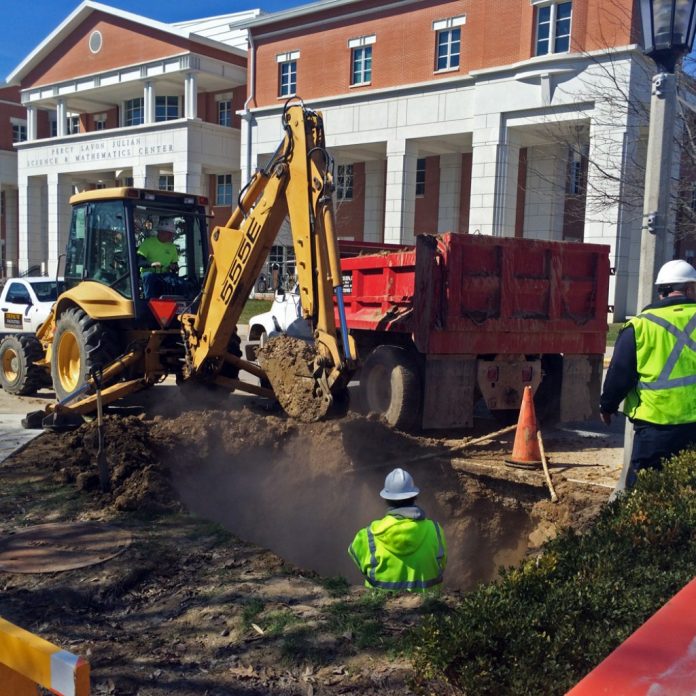 Construction projects on campus that began earlier in the semester will be completed within the next few weeks.
One of the first projects to conclude will be the Burkhardt walk. The Burkhart walk is a part of the Green Center for Performing Arts (GCPA) stormwater project, which aims to control flooding issues inside the GCPA. The only external part of the construction is the new walkway outside of the GCPA. However, the entire walkway is not yet open.
Warren Whitesell, associate vice president for facilities management, said the walkway will likely be completely open by the end of October.
The northern part of the walkway was expected to be completed by early September and the southern half by mid-to-late September, according to Whitesell.
Facilities Management is also working on the Campus Energy Master Plan (CEMP), which aims to lower heating and cooling costs and improve sustainability around campus.
According to Whitesell, the construction of the underground piping infrastructure was completed on time. A part of the CEMP process involved replacing the piping that distributes heating and cooling across campus.
The CEMP construction had closed sidewalks surrounding Peeler, Julian and Olin earlier in the semester. The process will continue, although it will not obstruct parts of campus like the construction did, according to Whitesell.
"While we're done with the piping, routing and networking outside, we're working on equipment selection and work inside the heating and cooling plants," Whitesell said.
Whitesell also said special equipment will arrive in the early part of December 2019, to continue the CEMP. However, this equipment might cause some sidewalk closures.
"You may see some trucks or something like that, or we may have to close some, like a sidewalk or something, when they arrive to get them," Whitesell said.
Additionally, the new first-year residence hall project is still in progress and on track, according to Whitesell. There is some road work that needs to be done near the new residence hall, but that is the city's responsibility.
Whitesell said that the city's responsibilities oftentimes affect the on-campus construction.
"We're just trying to kind of keep tabs on it because it affects our working ability."