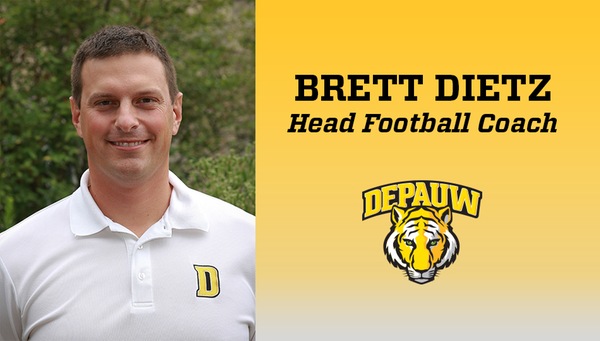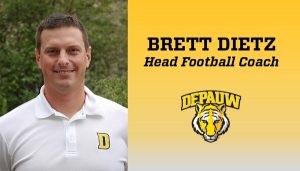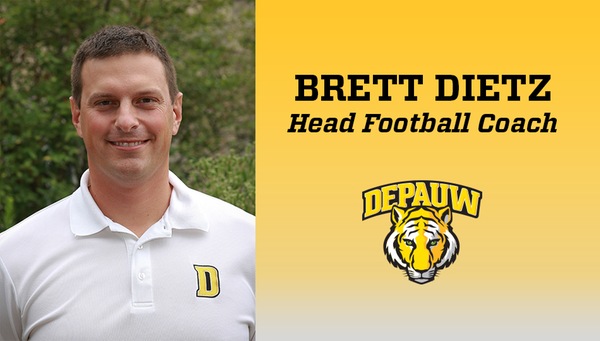 Brett Dietz, DePauw's offensive coordinator for the last six seasons and assistant coach since 2010, has just been selected to replace Bill Lynch as the Tiger's head football coach. 
Dietz played quarterback at Hanover College, earning the school's Most Outstanding Athlete of the Decade (2000-2009) before playing professionally in Finland and the National Indoor Football and Arena Football Leagues. 
During his time as assistant coach and offensive coordinator, Dietz compiled a 41-19 record. Dietz's tenure as offensive coordinator featured back-to-back record seasons: averaging 393 points (39.3/game) in 2015, then 404 points (40.4/game) in 2016. 
In addition to his role as offensive coordinator, coaching quarterbacks and receivers, Dietz was the program's recruiting coordinator from 2012-18.
"I want to thank Stevie Baker-Watson, Alan Hill, and everyone involved with the search process," Dietz said. "I'd also like to thank Bill Lynch who has been a mentor to me over the past seven years. 
Lynch, former DePauw football head coach, retired on January 2, 2020 after coaching college football for forty years. Dietz was chosen as one of four candidates through a search committee created after Lynch announced his retirement.
"Brett distinguished himself from other candidates with his passion for DePauw, and a plan to build on the strengths of our program," Stevie Baker-Watson, associate vice president for campus wellness and Theodore Katula director of athletics and recreational sports, said.
"He highly values the DePauw experience, sees where the program can grow and will work with the student-athletes, staff, faculty, alumni and campus partners to actualize our goal of a North Coast Athletic Conference championship. His work over the past 10 seasons has prepared him for this opportunity and we look forward to continued success of DePauw football under Brett's direction" Baker-Watson said.