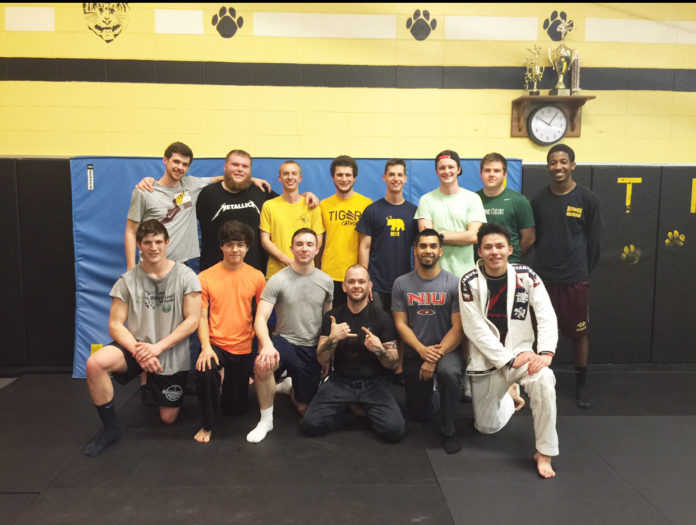 When Dulguun Tuyatsetseg ran for first-year senator, he promised that, if elected, he would start a Brazilian jiu-jitsu club at DePauw. At the club's first free session in February, more than 25 people attended.
Tuyatsetseg, or "DT" as many on campus know him, started practicing jiu-jitsu in high school and was looking for a way to continue his studies at DePauw.
"When I came to DePauw, I decided that since we don't have an academy here--our academy is an hour away--the best thing to do was to start a club," Tuyatsetseg said.
In high school, Tuyatsetseg practiced at the Indiana Brazilian Jiu-Jitsu Academy (IBJJA) in Greenwood, Ind. When he began organizing the club at DePauw, he reached out to the head instructor at the academy, James Clingerman.
Clingerman said jiu-jitsu is "a self-defense martial art." But Brazilian jiu-jitsu, a more modern version of the traditional Japanese jiu-jitsu, is different from other martial arts.
"We don't do a lot of striking, so no punches or kicks. The theory of jiu-jitsu is to take the fight to the ground using judo or wrestling-style takedowns," Clingerman said. "Once you're on the ground, you dominate the position where you can effectively attack without being attacked."
Tuyatsetseg called this mode of defense "grappling" form. "Grappling is a ground game, like wrestling. It focuses on joint locks, arm bars, triangles, and chokes," Tuyatsetseg said.
Clingerman and Tuyatsetseg both believe the benefits of Brazilian jiu-jitsu are endless. "I would say Brazilian jiu-jitsu is probably the number one martial art you should learn for self-defense," Clingerman said. "On top of that, it's hard work. There's always the health factor. You're gonna get stronger, you're gonna get more flexible, you're gonna be able to lose weight, you're gonna be a little more toned."
Both men cited mental benefits alongside the physical ones. "It's like playing chess," Tuyatsetseg said. "It's about figuring out what the next move is on my opponent and deciding what to do next."
Clingerman emphasized the particular benefits for college students. "It's study, it's putting the techniques from things you've learned into practice... But I think it builds mental endurance."
This 'mental endurance' could help students work through stressful times, according to Clingerman."You kind of learn to work through the stress, both mental and physical," Clingerman said. "There's a huge mental component to it, and I wish I would've been doing jiu-jitsu when I was young enough that I was still in school. I think it would've helped a lot."
Students in the Brazilian jiu-jitsu club get to reap these mental and physical benefits for free on Wednesdays from 7-8 p.m. at the Lilly Fitness Center and on Saturdays from 6-7:30 p.m. at the IBJJA.
The group meets with one of two skilled instructors from the IBJJA, Darrell Smith and Aaron Johnson. Smith, a brown belt in Brazilian jiu-jitsu, is also a former MMA fighter with over 70 fights. Johnson is a World Champion grappler who competed for the U.S. in both grappling and Greco-Roman wrestling. He spent six years training at the Foxcatcher Olympic Training Center and is a world champion in Brazilian jiu-jitsu.
Sophomore Mason Seeger has attended the club's meetings since its conception. Spurred by his background in high school wrestling, he decided that jiu-jitsu would be a fun new sport to try. "I like how physical it is," Seeger said. "It's a lot like wrestling in that it's just one-v-one and you get to dominate your opponent. It's a cool skill to have and it's also a really good workout."
Seeger believes he has improved a lot since his first club meeting and he recommends the club to all DePauw students."It's just a fun thing to do, a cool skill to learn," Seeger said. "You meet a lot of really passionate people who have had so much experience in their lifetime."

Tuyatsetseg is optimistic about the club's progress so far. "Most of the people who are coming say really good things about it. It's fun, just learning, getting a good workout and learning self-defense," Tuyatsetseg said. "We actually have some professors that will show up and train with us."
In the future, Tuyatsetseg hopes that the club will be able to participate in tournaments with larger universities. But for now, he just wants to gain more campus interest. "Anyone is welcome," Tuyatsetseg said. "It doesn't matter what gender you are. We had a good start, and it seems like it's starting to take off. I have a positive feeling going forward."