Looking for an excuse to procrastinate homework? A chance to escape your dorm and travel to a magical and haunting dystopia while staying right on campus? Prepare to feast on tiger carcass, exchange heart-wrenching memories, and dance the night away, because DePauw Theatre's latest play, "Brainpeople," offers all this and so much more.
Written by José Rivera, "Brainpeople" tells the story of a wealthy aristocrat, Mayannah, who summons two complete strangers into her lavish home for a dinner honoring the death of her parents. Unbenounced to the strangers, Rosemary and Ani (changed to Layna for the revised 2019 version and DePauw's production), their night is about to take a dark turn as the tensions––and stakes––rise.
Its intimate, entirely female cast is one of the many reasons this show stands out among other plays presented by DePauw Theater. Chloe Johnson '22 plays Mayannah, the heiress who lost her parents, Aolani Cano '23 takes the role of Layna, an uncertain stranger, and Amalia Crevani '21 plays Rosemary, a tormented working-class woman.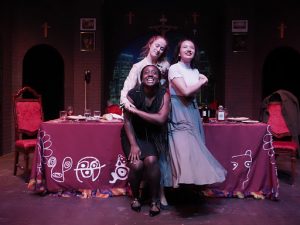 The play is made even more exciting by its director, Felicia Santiago, a DePauw '14 alum who traveled from New York where she works as an actor and director to help make this show as fantastic as it is.
To work with such a close-knit, female cast "was one-hundred-percent a dream come true," said Santiago, who also said that "while it is masked as a dystopian play, under it's magic realism, once you strip that away, you really see that it's actually how we're living right now."
Performances of "Brainpeople" will be showing on Thursday, Friday and Saturday evening at 7:30 as well as Sunday at one p.m. at Moore Theater in the Green Center for the Performing Arts.