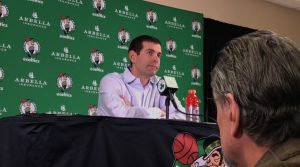 Brad Stevens '99, Celtics Head Coach, will return to campus on Monday, March 9, 2020 as the next Ubben Lecturer, according to a press release. The program will begin at 7 p.m., and the location will be announced later.
As always, the Ubben Lecture will be free of charge and open to all. Seating will be on a first-come, first-served basis, and no tickets will be distributed.
Stevens, a Zionsville, Ind. native, was inducted into the DePauw Athletic Hall of Fame last month.
As a DePauw student, Stevens was an economics major and management fellow. He earned all-conference and academic all-conference honors while playing on the DePauw men's basketball team.
Stevens took a job with Eli Lilly and Company after graduation, but left for a volunteer position at Butler University in 2000. He served several roles with Butler's basketball teams before being named head coach of the Division I men's basketball team in 2007.
He had a record breaking winning record during his time at Butler, and even led the Bulldogs to their first ever NCAA Final Four game. His record while coaching at Butler was 166-49.
In 2013, Stevens was named the head coach of the Boston Celtics making him the youngest head coach in the NBA. He's lead the Celtics to the playoffs in each of the last five seasons.
"Before he was maybe the best coach in the NBA, Stevens was maybe the best coach in college basketball," wrote the Journal's Ben Cohen last year.
As David Woods wrote in 2015 for the Indianapolis Star, "[Stevens] was a star in high school but not at DePauw University, where the coach was (and still is) Bill Fenlon. Stevens said Fenlon taught him how to be a teammate, calling it the greatest lesson he learned as he went into coaching."