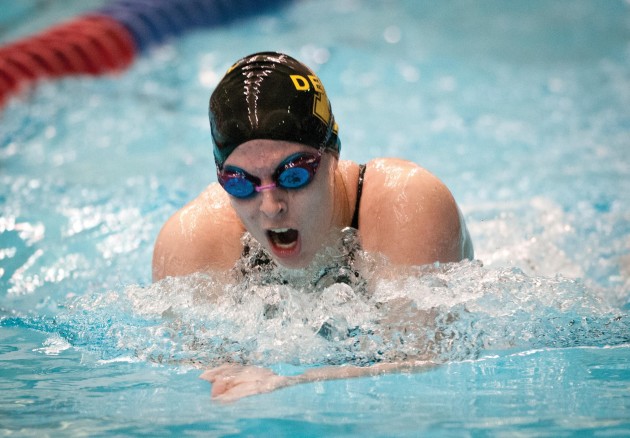 When senior Catie Baker joined the DePauw women's swimming team in 2008, she never thought she would go to the NCAA Div. III swimming and diving championships four years in a row.
"Had you told me when I was in high school that this was what was going to happen or that this was going to be my swimming career, I don't know that I would have believed you," Baker said.
Baker finished her career with an All-American performance in the 100 breaststroke from her eighth-place finish. It was her third straight top-eight finish in the 100 breast stroke. Previously, Baker finished eighth again in 2011 and sixth in 2010.
She also added an honorable All-American from a 16th-place finish the 200 breaststroke, another event she has had much success in with ninth- and 10th-place finishes in 2011 and 2010, respectively. She also finished 13th in the 200 individual medley in 2010.
Head coach Mary Bretscher said that Baker is particularly successful in championships for one reason: "I think that Catie is a person who swims well under pressure. She's going into that event knowing she wants to be all-American and does it. I think that kind of takes the pressure off."
Overall, DePauw totaled 12 points at the championships and finished in a tie for 39th. Emory University won nationals with 639 points, while Williams College was second with 453 and NCAC opponent Denison University was third with 420.
"It's always great [going to nationals] because you get to see the best of the best from around the nation," Baker said. "There are some really cool races to watch."
Bretscher said Baker has always been an interesting case. Baker came to DePauw still not fully rehabilitated from a shoulder injury she developed in high school.
"When she came to DePauw, she didn't have a lot of strength in that arm," Bretscher said. "She was only doing a quarter of what everyone else was doing in the pool. But outside the pool, she was really impressive."
Baker did not start swimming every day until her junior year. Coach Bretscher said most swimmers believe spending time outside the pool is wasted time, but Baker used the opportunity to continually strengthen herself. It paid off.
"She worked her tail off in the fitness center," Bretscher said. "Even though she wasn't in the pool, it wasn't like she wasn't there. There was never a question in her mind that she wasn't going to get that done and get better."
In addition to swimming for the past four years, Baker is also a double major in math and computer science and was president of Delta Gamma sorority last semester.
"I fell in love with the atmosphere when I first visited DePauw," Baker said. "DePauw gives you the chance to do everything."
Baker just received the National Science Foundation Graduate Research Fellowship and plans to pursue a Ph.D.
"I'm really excited to see what Catie ends up doing with her life because she is such an outstanding student and so talented," Bretscher. "It was really fun to have someone like that on the team."