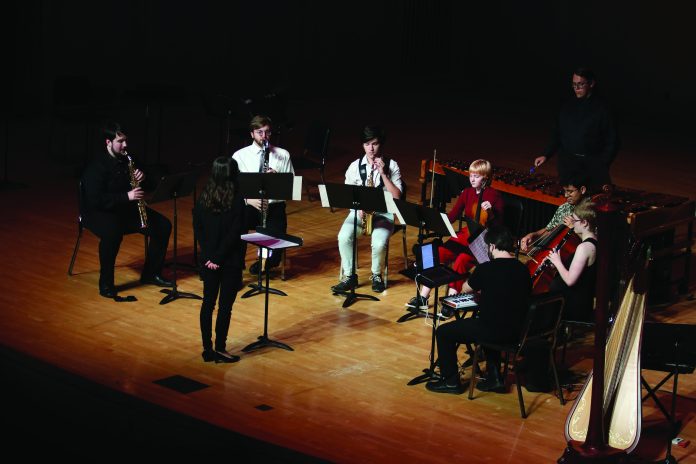 Art Walk 2022, an interdisciplinary art festival on the DePauw campus, took place from Friday, April 29 to Sunday, May 1.
"My favorite thing about Art Walk this year is just how much of the breadth of involvement that we had… Almost every art club on campus is involved, almost every artist is involved," Senior Elena Collins, founder of Art Walk and artistic director of Art Walk 2022, said.
As the artistic director, Collins led the organization process, planned activities, and did research since Art Walk is also the main part of her Honor Scholar senior thesis.
"What I learned is kind of how to work with people and manage people. Because a lot of what I was doing was, there's this artist who wants this done. So then I had to figure out how to work with them and get their idea of what they wanted," Collins said.
Back in fall 2020 when the pandemic was sweeping across the globe, Collins wanted to plan an event that was COVID-friendly and could bring the DePauw community together. Her inspiration for Art Walk came from Ellen Reid SOUNDWALK in New York City. It is "a GPS-enabled work of public art that uses music to illuminate the natural environment," according to the Ellen Reid website. Collins expanded this concept by incorporating all kinds of art on campus.
"The first time we did this happened last year, mid-April. And then right after that, I was one of the only remaining board members and I was like, I want to do this again. And I want this to be part of my thesis," Collins said.
The planning process started in summer 2021 as Collins expected Art Walk 2022 to be completely in-person, which made it different from Art Walk 2021. She formed a board of nine students from both DePauw School of Music and College of Liberal Arts. She also contacted every professor on campus asking if they wanted to get involved with the festival and how they wanted to get involved.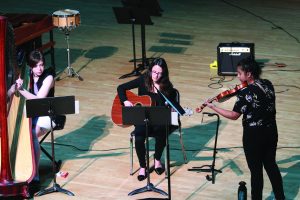 "I've been blown away every day by how many things people can create, and how many ideas people have. And this event, I think showcases all of that," Collins said.
Collins wanted to make Art Walk 2022 part of her Honor Scholar senior thesis because it allowed her to do everything that she loves in music. "I'm a clarinetist. And I'm also a composer, and I'm also an organizer. And so I wanted a thesis project that allowed me to develop all of those parts of myself."
William Pearson, the faculty advisor for Elena Collins and the DePauw Contemporary Ensemble, said: "My favorite thing [about Art Walk] is definitely that it is a way for students to express themselves in an institutional sense, they build something in their own image that is larger than themselves…sort of combining with their peers, but also creating the sort of institution that has certain values."
Pearson thinks that Collins is "a truly multifaceted artist-curator," one who brings the persistence, vision, and ability to "have all the pieces in place" into Art Walk 2022. He added that the student board is "wonderful" and they have a lot of good times together.
Pearson said that a lot of professors have been involved with Art Walk 2022. The list includes professors Joe Heithaus and Eugene Gloria with their poetry readings, faculty from the Prindle Institute for Ethics with their "Art With an Asterisk" workshop, and so on. According to Pearson, while Art Walk 2021 was music-heavy, the festival this year has more diversity like dance and theater performances.
"It's important to have these events that you can really see yourself in, that are very accessible. You know, anybody who wants to be a part of the Art Walk can be a part of it…So it's a real opportunity for students and for community members to really come together and, and sort of see themselves in this wonderful community," Pearson said.