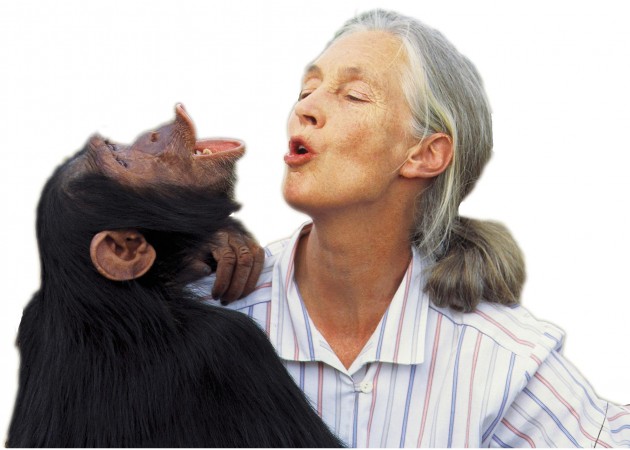 While most of us were catching up with family and preparing for a Thanksgiving feast, the university announced on Nov. 21 that renowned anthropologist Jane Goodall will be delivering a Timothy and Sharon Ubben Lecture on April 17, 2013. She will deliver the lecture, entitled "Making a Difference," in Neal Fieldhouse and the event will be free to the public.
Executive Director of Media Relations Ken Owen '82 said DePauw is fortunate to have Goodall come speak.
"I've had a number of professors and students over the years say you ought to look at Jane Goodall, and I always have," Owen said. "But she doesn't do many [university lectures].
"She's been doing this for a long time," Owen said about her work with anthropology. "She was doing it before it was hip to do it. And I think that she has influenced several generations of people. ... she was pioneering and brave, and she brings a lot of interesting things to the table."
Goodall began her work with the Gombe Stream Chimpanzee Reserve in East Africa in the 1960s when she studied the behavior of chimpanzees and the relationship between animals and humans. She later founded the Jane Goodall Institute for Wildlife Research, Education and Conservation in 1977 in order to ensure that fieldwork with chimpanzees continues. Today, the Institute strives to address the ability humans have to improve the environment.
The event is scheduled to take place in Neal Fieldhouse because Owen has heard Goodall can draw between 3000 to 4500 spectators, but he says this can be subject to change.
"What you don't want to have is an empty gym," Owen said. "But on the other hand, if you're paying someone to come and give a speech, you want to get as many people in there as possible to maximize the experience."
Although the Ubben Lecture Series is open to the public, Timothy Ubben understands the importance of keeping the DePauw community in mind when deciding on speakers.
"We certainly want something that appeals to the kids in school because they are our audience, they are our target," Ubben said.
Senior Ariella Ford said she was surprised how many students on campus were not completely familiar with Goodall's work. As an anthropology/sociology major, Ford referred to Goodall as a "kind of big celebrity for us [anthropology majors]."
Ford is most interested in hearing about Goodall's current work, but for the sake of people who don't know about her past fieldwork, Ford hopes she touches on both subjects.
"She's a very influential person in the field of anthropology," Ford said. "And I think that her work just really isn't as talked about as much as it used to be but its still so relevant today."
Owen was sure to give to credit for a lecture series he is sure will be around for a long time.
"The Ubbens have done a lot for DePauw, but this [lecture series] is a constant drumbeat that continues to give back," Owen said. "And the great thing about the lecture series is that it should be around as long as DePauw's around."
As with the numerous other speakers the Ubben Series has brought to DePauw in the past, Owen is very hopeful that Goodall's lecture will be an influential event for the university.
"When people look back on the roster [of Ubben Lecture speakers]. ... it says a lot of powerful things about this university and the experiences our students have," Owen said.
Ubben stresses Owen's hard work with the Lecture Series and the success it has had.
"As long as Ken's around, we're going to have a good lecture series."