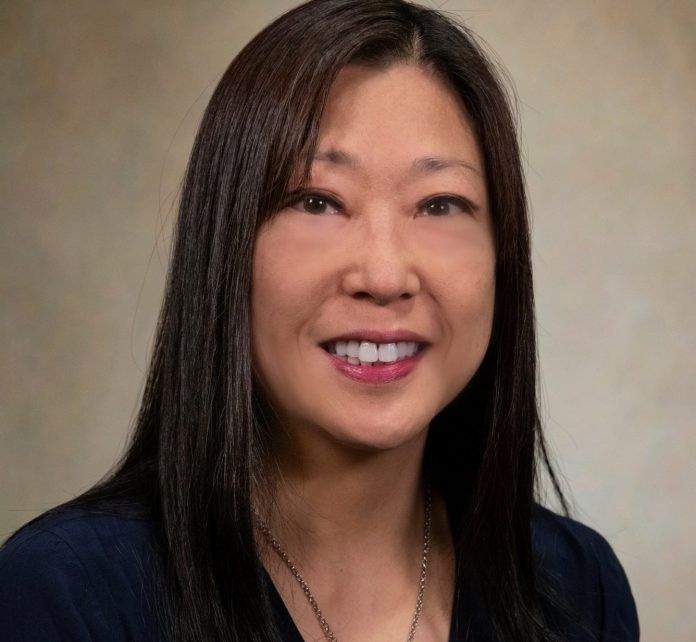 It's mostly quiet inside DePauw University's Center for Diversity and Inclusion. A television hums in one study room. Shuffling of papers and student chatter sound in another. A side door swings open and Amanda Kim, the first vice president of diversity and inclusion, steps inside. She trudges up a few flights of stairs and keys into an almost empty office—bare walls, a few papers here and there. It's understandable though, as Dr. Kim only started her new position a little over a month and a half ago.
"It's been a short time, but it's been a whirlwind," Dr. Kim says.
She's wearing a black suit and pants with a silver necklace that glints against the fluorescent light fixture overhead.
"I came for a week prior to my start date for the Day of Dialogue because I didn't want to wait a whole year to be able to get a sense of what that was like."
It makes sense that Dr. Kim would want to come a bit early. During DePauw's Day of Dialogue, classes are cancelled, and students, faculty, and staff come together to talk about race, identity and other difficult topics.
"I actually happened to be at Starbucks the day before," Dr. Kim explains. "And I heard some students talking."
"They said 'Oh, tomorrow's the dialogue thing, do we have to go?'
One student replied, "'Yeah. And it's going to be lots of drama.'"
She laughs. "It surprised me and also kind of made me feel interested and curious about what gave them that impression. But there was anticipation. And I think any anticipation, good or bad, is good because people are paying attention."
Overall, the day gave Dr. Kim insight on what DePauw culture was like and what issues she'd have to address with her new position.
"It certainly has added a lot more depth to my sense of DePauw and the people that make up DePauw," she explains. "But I really didn't have a sense of the individuals that make up this community and that's what I've been filling in."
Dr. Kim looks thoughtful with her arms folded over and pressed against her desk.
"It has helped me to begin to think about what's needed," she says. "How can I help? How can I best gauge what is currently happening and what's working here in terms of diversity, inclusion, and equity? What's needed to take us to the next level?"
She speaks calmly and confidently, as if each word is screened before it passes her teeth.
"I stand on the shoulders of many, many people and organizations and many efforts to make it visible the need to have leadership in diversity and inclusion," Dr. Kim says. "[I] appreciate and very much want to understand and give credit to that history and the legacy that DePauw has, but also recognize where we need to go. What are we looking forward to?"
She's talking about a need for change in terms of the DePauw culture that surrounds diversity and inclusion. But to her, recognizing change is only the first step, and action is what matters.
"We can only move forward," Dr. Kim says, her voice firm. "We've passed the point at which we could return to not [care] and not think about diversity and inclusion. My job and the vision will be about how do we make that happen in orchestrated, proactive and planful ways where we can ensure that we're providing the opportunities for faculty [and] staff to learn and become aware of what's needed."
In Dr. Kim's opinion, DePauw has done a great job of recruiting diverse students and supporting the interests of those students through student organizations and activities, but that's only part of the picture.
"On a more systemic perspective in regard to this institution, then we have to ensure, institutionally, we are appropriately providing the opportunities to develop the individuals that make up the workforce of the institution," Dr. Kim says. "How are we helping our faculty and staff and providing opportunities for them to think about teaching and learning and interacting with our students that are current? The expectation is that we're everchanging."
Dr. Kim has experience working with students of different identities and backgrounds since she first entered higher education as a staff psychologist. It was then that she began working with diversity and inclusion issues.
"I worked with students of color on adjustment issues and addressing symptoms related to experiences of racism or discriminations or microaggressions. And then, international students, because they didn't think about mental health in the same way [we do]. And so helping those students understand how we separate in the U.S, physical and mental health. And how then, they have to self-identify."
Dr. Kim's early work with students of color, especially international students, applies to DePauw's current social climate. The university has a huge international student community with a myriad of cultures and identities, and it takes diligent work to make sure all of the different identities are properly represented.
"As a foreigner coming to the U.S, how do you understand the concept of racial identity if that's something you haven't experienced before?" Dr. Kim offers. "How do you go from 'I identify as Chinese because I was born in this country, and now you're Asian?' We think about ethnicity differently than nationality."
Dr. Kim doesn't handle work with international students alone, though. She collaborates frequently with Yoanna Sayili, interim assistant director of the CDI, who sits at the helm of international student affairs. Sayili's office sits a few doors down from Dr. Kim's and inside, it's much more lived-in than Dr. Kim's new space--stacks of various papers sit across her desk next to pictures of family and handmade arts and crafts. Various degrees hang on the wall next to a huge world map with the faces of international students.
"Both her [Kim] and I are constantly looking for additional feedback," Sayili says. "Whether it's participation in some of the surveys that we are sending to students, or if you've heard that a lot of your friends are having an issue with a service or program. I know that a lot of things are going on just in the student community, but if they keep it only in the student community, there's no way for staff and administration to help."
Sayili has a point, and her words don't just apply to international affairs. In the past few years at DePauw, amidst racially charged issues on campus, communication between students and the administration has been strained.
Student-administration relations reached a breaking point during a student led protest at the Jenna Fisher Ubben Lecture two years ago after a series of racially charged incidents occurred around campus. Walk around long enough on campus now, and you can hear the sentiment—maybe even hope—that Dr. Kim can fix the racial tension on campus present.
Dr. Kim doesn't agree.
"That would certainly be a road to failure because there's no way that any one person can fix what happened within the community," she explains. "It's going to take a lot of people being involved in turning things around. I want to recognize the significant events that contributed to that and what we need to learn and take away and utilize from these experiences to be able to move forward."
Sophomore LGBTQIA+ intern at the CDI, Marsha McCray, echoes Dr. Kim's thoughts.
"Because of this new transition, I think improvement will come with that," Marsha says.
She's sitting in the student study space in the basement of DePauw's union building. Her large aviator glasses sit on her nose as she leans back in her seat, contemplative.
"Amanda can't do everything because [she's] only been here for a couple of months now," Marsha continues. "So she's still trying to figure out how to do things and get to know us individually."
Sayili agrees with Marsha.
"Nobody has a magic wand, and that's not to say we shouldn't have hope and we shouldn't press for change when something is hurting us," Sayili comments, shifting in her seat. "Now as Dr. Kim is here, we need to work with her. The best thing that we can do as a community is give her background of things that have happened in the past and things that she might've not seen and tell her why students are demanding the things that they are demanding."
Sayili's words make sense. You can't blame students for their demands of racial justice, equity and a campus that respects and nurtures their developing identities.
To maintain these identities is certainly a tall order, but Dr. Kim embraces the challenge. She talks of what DePauw can be—what it will be with the growing progress made by the CDI. She speaks of DePauw acting as a microcosm of the real world, so that when students graduate, they'll meet their new experiences with a sense of confidence and familiarity that will allow them to thrive in any environment.
"The more that we have people freely able to choose and say, 'I want to be part of this institution,' the more that we will have an enriched environment where we are able to learn from each other...as well as our interactions with one another," Dr. Kim says.
Outside, it's nighttime. Through the window in Dr. Kim's office, you can see students finishing their assignments on easels in the Peeler Center across the street. Dr. Kim sits placid, but contemplative behind her desk—she still has work to do.
"Diversity, within the context of DePauw--it's all the people that want to be part of this community," Dr. Kim says. "The people who want to come and study and learn here as students, as well as the people who want to work here.The more that we can bring that sensibility to students, the more successful we will be in having prepared students for the world. So that they have all the options of choosing what they want to do and how they want the impact the world around them."