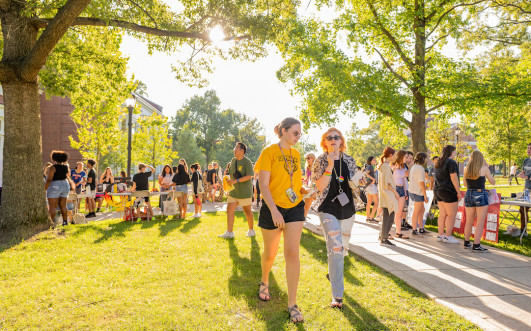 On March 11, DePauw University hosted an admitted students event on campus. A total of 82 students from 13 different states participated. The day started at 10 a.m. with a check-in and information session, followed by a welcome and highlights of DePauw. The Dean of Student Success JC Lopez then talked to students about the next steps before coming to campus in the fall. Senior Associate Director of Admission Blaine Mannering described the events in more detail. 
"The information fair consisted of 12 departments across campus that they may be interested in connecting with (i.e. Health Services, Dining, DEI, Women's Center, Residence Life, etc). Next steps walk students through what happens between the time they deposit and arrive in the fall (i.e. housing forms, health forms, summer Gold Enrollment Days, and orientation)," Mannering said. 
The day then proceeded with lunch and residence hall tours of the four living options in the South Quad. 
Sophomore Emiliano Quintanilla was among the tour guides that gave tours to the admitted students. Quintanilla'smain goal is to provide potential students and parents with a view of campus through a student's perspective. 
"For 'Student Admitted Day' on Saturday, my role was to just welcome potential students and
their families to campus, answer any questions they may have had, and show them all around campus," Quintanilla said. 
When giving tours, Quintanilla is told to take them to the main areas of campus that showcase how students live, where students hang out, as well as where students have classes and go to study. For Quintanilla, he takes pride in being able to represent the school through the tours. Majority of the time, Quintanilla said, a tour can make or break a student's decision on where they will go to school, so he tries to make it the best part of their visit. 
"It means a lot to be trusted to give tours at events like these. When giving a tour, you may be
the only student families and prospective students really get to interact with and ask questions
Meaning, we are representing the entire student body of DePauw in just the hour of us
giving a tour," Quintanilla said. 
Quintanilla thinks that DePauw does an excellent job on making prospective students feel special and wanted. As an intern in the admissions office, Quintanilla sees all the hard work and effort counselors put into admitted students events, making the experience personalized for each student. 
"As for one thing DePauw could improve on, I would say is notifying DePauw students like myself just a bit sooner on when they need us and for what. Sometimes, things may feel last minute or unorganized from a DePauw student's perspective. However, at the end of the day, we all make it work as we enjoy doing what we do," Quintanilla said.
During the day, admission emphasized the importance of connecting students with resources on campus and fellow potential students through interactive student activities. 
"The students did ice breakers and DePauw Trivia to meet one another and learn more about DePauw. Guests visited the Alumni and Development Office with a few staff and alumni, and we made the campus tour at the end of the day optional because this is often not a student's first introduction to DePauw," Mannering said. 
DePauw University is planning on having more admitted students days on April 10 and 21.