On a sunny afternoon, I took a walk from DePauw's campus to visit the Creative Castle in their new space in Downtown Greencastle. Entering the building, I was greeted by a multitude of art pieces ranging from hand-carved instruments, crocheted animals, quilted blankets, fine jewelry, original paintings and photo prints. While browsing around and simply taking in the atmosphere, I was fortunate enough to run into the store's owner.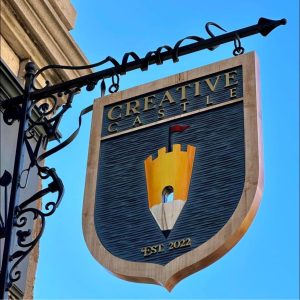 Creative Castle was born from the mind of Derek Chastain and influenced by the writings of Wendell Berry and Nick Offerman. They discussed themes of sustainability, community, and how people are all connected, whether they want to be or not. He took these teachings to heart and applied them to the Putnam County community, and saw a diamond yet unpolished. At the time, Chastain was working at a local furniture store – whose shipments were months delayed due to the pandemic – and realized his neighbors could create the things that people in the community needed.
This is exactly what Creative Castle aims to do: ensure that customers know exactly where their goods are coming from, while giving Greencastle's talented artisans work and a place to display their art. It's a business that puts emphasis on sustainability by utilizing what resources the area provides, such as clay from rivers to sculpt bowls, and wood from the forests to carve printing woodblocks.
Creative Castle features over 45 local artisans, 18 of which have dedicated sections in the shop. While conducting my interview with Chastain, a few featured artisans even stopped by to visit. In the brief interactions I witnessed, I could feel a strong camaraderie between them and Chastain. It was deeply touching, to say the least.
In terms of what Creative Castle offers to DePauw students, Chastain said that in the midst of the university's changing academic climates, he hopes that Creative Castle can become a lighthouse in the storm. Currently, he's planning to team up with the English department to host a monthly poetry reading in the building, among other events around Downtown Greencastle.
He wants to share Creative Castle with all members of Greencastle, whether they've lived here their whole lives or are only here for four years at DePauw, and encourage connections between students and residents.
The same criteria applies to artisans looking to share their work with the community. One of my friends on campus sells some of her art at the Creative Castle, and I remember seeing the stars in her eyes on the first day she sold one of her pieces. Art is a very personal and vulnerable craft with endless possibilities and boundless limits. It's a kind of expression with no ceiling or floor, a sentiment that rings especially true when taking a step into Creative Castle. So if you find your afternoon free, take the same walk I did and discover one of Greencastle's hidden gems.
Creative Castle is located on 16 S Jackson Street in Greencastle, IN, and they're open Wednesdays to Fridays from noon to 8 p.m. and on Saturdays from 10 a.m. to 3 p.m. A special thank you to Derek Chastain for taking the time to sit down and talk with me. The space you and your fellow artisans have created is beautiful.