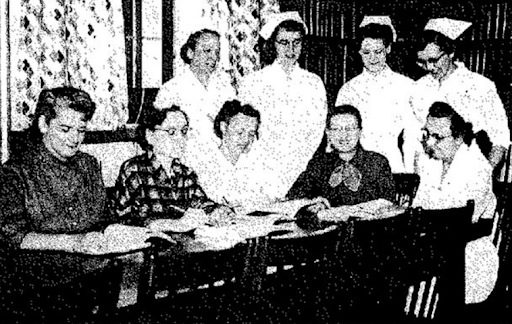 In 1929, DePauw University first affiliated with the School of Nursing at Methodist Hospital in Indianapolis, according to "The DePauw School of Nursing: A History," a part of DePauw's Archives. After completing a three-year pre-nursing course, students transferred to the hospital for professional education. Students were awarded a B.A. degree as well as qualification for the State Board Licensure exam. For the next 25 years, the program would continue with few students.
During the 1950s, a report from the Indiana Nursing Survey strongly showed the need for a baccalaureate nursing program. With common connections to the Methodist church, DePauw University and Methodist Hospital in Indianapolis collaborated to form a nursing undergraduate program. On Oct. 23, 1954, the Board of Trustees approved the establishment of the DePauw University School of Nursing in conjunction with Methodist Hospital.
The program was divided into two years studying in Greencastle and the last two years doing clinical work as a resident at Methodist Hospital. The aim of the DePauw University School of Nursing was to give students, through a combined liberal arts and nursing education, an appreciation of the social and cultural world as well as the ability to give professional care.
In 1975, Tom Swagner was the first man to graduate from DePauw's nursing school. After working in surgery, Swagner obtained a degree as a certified registered nurse anesthetist. Due to slowing enrollment, DePauw's Board of Trustees voted to phase out the school in October of 1990. The final class graduated in May of 1994 Jayne Stone graduated from the DePauw School of Nursing in 1991 and soon took a position as a nurse in Riley University's PICU. Stone remembers her junior and senior years living in downtown Indianapolis.
"We all lived in apartments next to Methodist Hospital. Our class was small, 21 students, and we all went to class together in Wile Hall. We had five, maybe four, professors and with the small class size, we got to know them very well," Stone said.
Each of the professors had their own speciality, according to Stone, such as pediatrics or psychiatry. Nursing students typically didn't wear scrubs. Instead, students wore navy dresses with a white pinafore to clinicals. Stone mentioned how classes were hard, so she spent a lot of time studying along with clinicals.
Stone's most memorable clinical rotations were psychiatry at Central State Hospital and labor and delivery at Wishard Hospital, now known as Eskenazi Hospital.
Lori Datena graduated from the DePauw School of Nursing in 1983. She currently works as a clinical educator for Cascade Life Alliance, the organ procurement organization for Oregon—part of Idaho and part of Washington State.
"One of my sharpest memories during the clinical portion of my DePauw education was seeing the first heart transplant recipient at Methodist Hospital. She was also the first heart transplant recipient at any private hospital in the US," Datena said.
Joan Niehaus graduated from the DePauw School of Nursing in 1965. She remembers questioning her belonging when she first got on campus.
"I remember thinking as a freshman at DePauw, 'I'm not sure I belong here, but I do know someone decided to take a chance on me.' I was determined to prove them right," Niehaus said.
After graduating, she worked as a medical and surgical nurse, then in patient psychiatry. Niehaus also worked as the formative staff for an inpatient Chronic Pain Unit for 10 years at Swedish Hospital in Seattle, Washington.
"I earned my master's degree in adult mental health: addiction and alcohol speciality at the University of Washington. Then, I had a private psychotherapy practice for 40 years," Niehaus said.
Now, at the age of 79, Niehaus continues to counsel and teach classes through her church and community on parenting, self esteem, stress management, and mindfulness. Niehaus added that she loved her nursing career.
"My life as a nurse has been a gift to me. I have had the privilege and joy of sharing my gift every day," Niehaus said.
Despite the nursing school having their last graduating class in 1994, DePauw nursing program alumni carry on a strong legacy.
"DePauw nursing graduates were held in high regard for having a strong clinical knowledge base and strong critical thinking skills. A disproportionate number of DePauw nursing alumni ended up in leadership roles or advanced practice roles," Datena said.