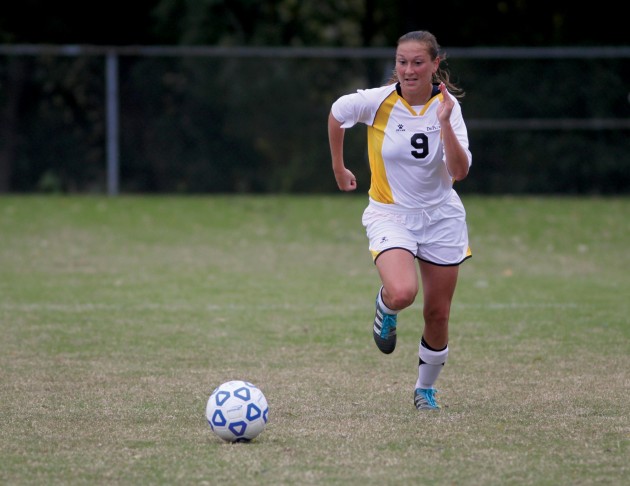 In the summers, Dana Sprague and her soccer team sometimes were unable to practice outside due to extreme heat and humidity. During the winters, she said it was warm.
In Saudi Arabia, there really aren't seasons - just a whole lot of time to play soccer.
Sprague was born in Los Angeles and her family moved to a compound in Dhahran, Saudi Arabia when she was one year old. Her father was an engineer for Saudi Aramco - a state-owned oil company producing 10 million barrels per day, making it the largest oil company in the world. The company is headquartered in Dhahran, located in the eastern province near the Persian Gulf. When she was 15, the senior women's soccer player moved back to the U.S. to attend boarding school, and brought with her the skills and talents she learned playing in the Middle East and in Europe.
On Saturday, Sprague will play her final regular-season game after starting all but one game in her four-year varsity career at DePauw. Her ability and technique with the ball was what set her apart all these years, and what she learned under the desert sun.
On a compound in Dhahran, 11,000 Aramco employees lived in the gated-community-like town.
"It was just housing, a few snack bars and there are 20 soccer fields there," Sprague said. "The compound is basically a gated community with about five entrances into it.
"Before 9/11, it was literally a fence with barbwire on top of it. Then we had huge walls around it with cameras and motion detectors. At the entrances, there were guards with guns standing there."
Dana attributes her involvement in soccer to her sister, Kelly, who declared she wanted to try playing soccer when they were walking to a pool. A year later, when Dana was three years old, she joined a recreation soccer team.
In fourth grade, one of her Saudi friend's dad, who was a Saudi Arabia national men's soccer team player, started a select team in the compound. Her school never had a soccer team itself, so Sprague played just a few games each year in tournaments in Dubai.
"We won them every year because the girls in Dubai and Bahrain weren't that good athletically," she said. "They didn't offer the coaching support for girls that age, not as much as in our compound."
The compound didn't have any other school or team to play against it at the select team's level, so they would travel sometimes 20 miles away to the island kingdom of Bahrain to find opponents.
In seventh grade, Sprague advanced to a travel team.
This travel team made Sprague the player she is today. Coached by Gordon Lynch, she practiced ball control and making pinpoint passes to teammates. During these years, she asserted herself in the midfield when the team traveled to Europe to play in the three of the largest youth soccer tournaments in the world - the Gothia Cup, Dana Cup and Norway Cup.
"When we went to Europe, we weren't allowed to represent Saudi because we were wearing shorts and girls aren't supposed to show their legs," Sprague said. "So we picked a random country, and we picked Canada because we had maybe two players who were Canadian. We played teams from Norway, Sweden and Denmark. All I remember was those girls were huge. It was cool to play soccer and realize other countries' style of play."
Sprague's middle school provided education through ninth grade, then students had the chance to go off the Dhahran compound to an international high school, or go elsewhere.
She followed her sister back to the U.S. and attended Cushing Academy in Massachusetts, after playing three years of travel soccer.
Kelly transferred in from a different boarding school to Cushing, and Dana had two friends from Dhahran who attended Cushing as well. Moving back to the U.S. was easier than she thought.
For soccer, however, she had a lot of apprehension.
"I was really nervous because I had never played soccer in the U.S. I didn't know if they were going to be really good, I really didn't know," Sprague said. "Soccer wasn't the major sport for people [at Cushing]. They were still good, but they weren't as good as if they were playing for their whole life. I love passing the ball, not just knocking the ball up."
While she dealt with a more physical-style of play, Sprague and her sister combined in the midfield for Cushing as they proceeded to the New England Championships in their first year there. In her junior year, Dana accompanied Kelly on her college search around the country. Kelly attended Earlham College, and Dana in-turn wanted to stay close.
"I looked at Ohio Wesleyan, Wittenberg, Earlham, Denison and DePauw," Sprague said. "I really wanted to play with my sister, but I did not like Earlham at all. When I visited here (DePauw), it was just the feeling I got from it. It's great academically and has a good soccer team."
Living close to her sister was a top priority because her parents remained in Saudi Arabia up until May 2011.
The two sisters went home only during winter and summer breaks.
"I thought I was going to be really home sick, but since I had my sister and a couple other people, I didn't get home sick at all," Sprague said.
In recruiting, John Carter, DePauw women's soccer head coach, said it was difficult to know what type of player she was because he never saw her play before, and she didn't make a highlight tape.
"From what I heard, she was a better player than her sister," Carter said. "She comes off first and foremost very impressive as who she is as a person. I thought she could come in and contribute right away."
As a freshman, Sprague started all 19 games in midfield, but none of her 25 shots found the back of the net. She described herself as very timid on the ball her freshman year, and one who didn't like dribbling the ball at all.
"I was nervous about everything," Sprague said. "In Saudi Arabia, we just passed it around, and it was never an issue. I was freaked out that someone was going to come tackle me, and I didn't want to lose the ball."
After not scoring her freshman year, Sprague led the team in goals the next season with seven, then tacked on five more in her junior year.
Sprague was selected to the first team All-NCAC following the 2011 season. She also earned first-team honors in her sophomore season in the Southern Collegiate Athletic Conference.
This season, despite a seven-game losing streak to start the season, Sprague leads the team with five goals. She changed positions to forward mid-season, and now, defenses focus on limiting her touches inside the scoring box.
"She's more willing to take people on," Carter said. "She's willing to be more dynamic and influence the game more to her strengths. At times she's still passive when she could be a little bit more aggressive, but that's a part of her personality. She has a more giving personality and a more inclusive one, sometimes that comes out on the field a little bit."
Sprague will need to be aggressive on Boswell Field on Saturday at 11 a.m. for the final regular season game of the year - and last regular season game of her career. DePauw (4-10-1, 3-3-1 NCAC) is tied for fourth in the NCAC with Kenyon College (7-7-2, 3-3-1 NCAC) and Denison University (4-10-2, 3-3-1 NCAC). The Tigers face No. 3 Allegheny College (9-7-1, 4-3 NCAC) in a must-win situation.
"I'm trying to think if the sadness of the last game will help me or hurt me," Sprague said. "I'm going to lay it out all on the field. Everyone will give it everything because it could possibly be the last game."
Regardless of Saturday's outcome, Carter knows next season he will miss his forward who now lives in Houston, Texas, and wants to be a bio-medical engineer.
"We're going to miss her leadership style and her personality," he said. "She knows what to make us a strong field on the field and off the field."