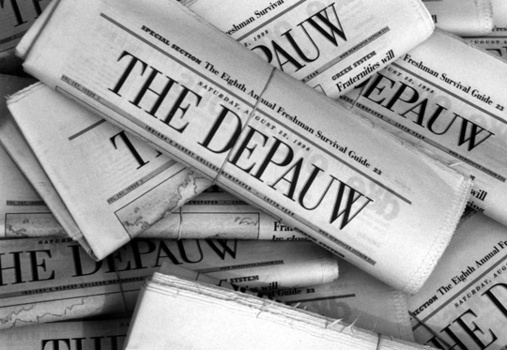 Ever wonder what really goes on inside a newsroom? Interested in getting your writing published? Just looking for a creative outlet? The DePauw, Indiana's first collegiate newspaper, might be the place for you. Here are just a few things that will happen when you join The DePauw.
You will...
Improve your writing skills.
When you write for The DePauw, you will not only become a better writer, but a better communicator. Our sections cover news, features, opinions and sports. Whatever your interest or strength, get ready to see your writing abilities improve.
2. Make amazing friends.
We may be biased, but student journalists are some of the best people on campus. 
On staff, you'll be surrounded by motivated, hardworking and passionate writers who believe in producing trusted news and creative content.
3. Boost your professional portfolio and resume.
If you're looking to build your professional experience, writing for a newspaper is a great way to start. Even if you're not sure about a career in journalism, being a journalist requires a range of applicable job skills including research, storytelling and time management. 
4. Hear ALL the campus tea.
We know it first. As journalists, we always have our ears and eyes open for potential news stories.
5. Put some extra cash in your pocket.
Writers and photographers get paid $15 per article/photograph. Editor positions can pay up to $500 per semester. If you're cranking out 1-2 stories a week, think about how much you could save for your morning Starbucks.
6. Build rapport with faculty and staff.
Because many stories require sources, you'll likely talk to many members of DePauw's faculty, staff and administration. Conducting professional interviews helps professors get to know you and makes you stand out as a campus leader.
7. Become eligible for competitive internships.
While DePauw doesn't have a journalism major, through involvement in student media and related coursework students have scored some amazing work opportunities. Some of our writers have interned at the Washington Media Institute, News21, 60 Minutes, ABC News and more.
8. Cover breaking news, big name speakers and more.
There's arguably nothing more exciting than being the first to report on campus news. Our writers also attend media conferences for Ubben lecturers, alumni speakers and more. If you're someone who loves chasing great stories, The DePauw has a place for you.
9. Get a chance to make our famous quote wall.
Deadline night for our print newspaper never fails to bring out the best late night antics. If you're curious or want to join in yourself, stop by the newsroom located in the Pulliam Center.