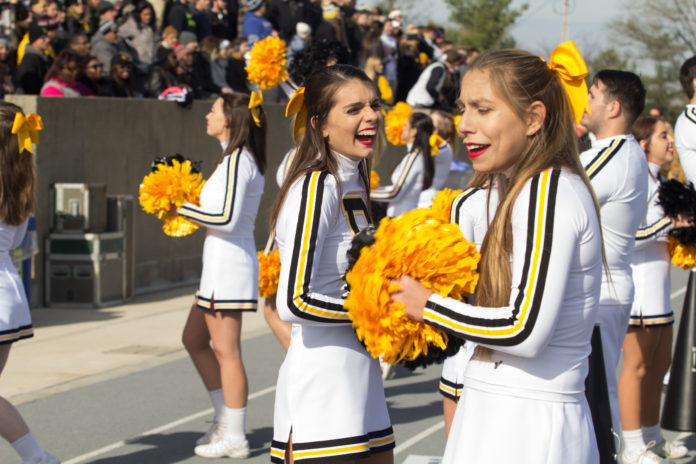 On Nov. 13, student organizations, athletic teams and academic departments can participate in All In for DePauw, a fundraising campaign where participants will have the chance to win a portion of the $75,000 pledged dollars.
All In for DePauw will take place from midnight to midnight, and student organizations will be able to win money by participating in over 50 hourly challenges throughout the day.
For example, some of the hourly challenges will reward the group with the most donors who are alumni living outside the U.S. within the hour, the first group to get 10 donors within the hour and the group with the most faculty/staff donors.
Anthony Baratta, associate director for reunion and class giving, said, "This is the first year we're really opening up a giving push to all of campus and saying, 'help us with this,' which is pretty empowering if you're a staff member or student because we're saying you are allowed to and encouraged to ask for money for your department."
The money raised during the day on top of the already set challenge funds will underwrite an organization, department or athletic team's budget.
"Alumni and student dollars are budget-relieving, so they're underwriting the cost of running a specific program," Baratta said.
However, if a student organization, academic department or athletic team wins a challenge in the hour, that money is budget enhancing.
Rosie Blankenship, director of annual giving, said, "The challenge funds are on top of their [participants] allocations, so anything won in a challenge can be spent not only this year but into the future if they need to hold on to it [challenge funds]."
Blakenship said students are encouraged to reach out to alumni they know to ask for donations, and individuals at the Robert G. Bottoms Alumni and Development Center will be willing to help students reach alumni by sending emails on behalf of a student, organization or athletic team.
No student organization can earn more than $8,000 during the 24-hour period. However, this cap is non-existent in regards to academic departments and athletic teams.
"We want everybody to have at least a competitive advantage, so we'll be doing everything we can to make sure that happens. Not everybody can win, but we want it to be a level playing field." Blankenship said.
According to DePauw University's website, donors will not be able to give directly to Fraternity and Sorority Life (FSL) chapters, but money may be donated towards the philanthropy of a Greek chapter.
An email from the Dean of Students Office said, "The day is structured to encourage alumni support through broad involvement from faculty, staff and students by promoting giving in support of student organizations or Greek houses aligned with the affinity and experiences of our alumni."
The office said their goal is to secure 2,019 donors during the 24-hour day of giving. However, there are chances to win money on Wednesday Nov. 6 from social media challenges. This date also marks the beginning of the deadline for entry between Nov. 6 and posted hour on Nov. 13, according to DePauw University's website.
"We're trying to start momentum going, get it trending, beginning this Wednesday, a week out," Baratta said.
Only challenge funds will be rewarded on Wednesday. Student and alumni donations will be the focus on Nov. 13.
Rules for the both of the days' challenges can be found on the DePauw University website. Failure to follow these rules will lead to an organization's disqualification from a challenge.
Although DePauw has been marketing this day to alumni, there is still speculation that word may not spread as quickly as those who created the event would like.
"We think everybody is going to think this is an awesome project a week after the fact," Baratta said.
At DePauw Student Government's (DSG) Town Hall on Sunday, senior Emma Arndt said she sees DePauw's Day of Giving as an opportunity to raise money for organizations she is involved in, like the cheer squad.
"We need money for uniforms, new pom poms and things like that. Our pom poms I think we've had for over 15 years, and I'm not kidding about that," Arndt said.
Arndt also encouraged students to strategize and take advantage of All In for DePauw.
She said, "This is a lot of money. I know student orgs, we try to keep our budgets strictly for the necessities," Arndt said. "$1,000 is the prize money for one challenge, like you can make a lot of money in a short time and I know a lot of student orgs need that."