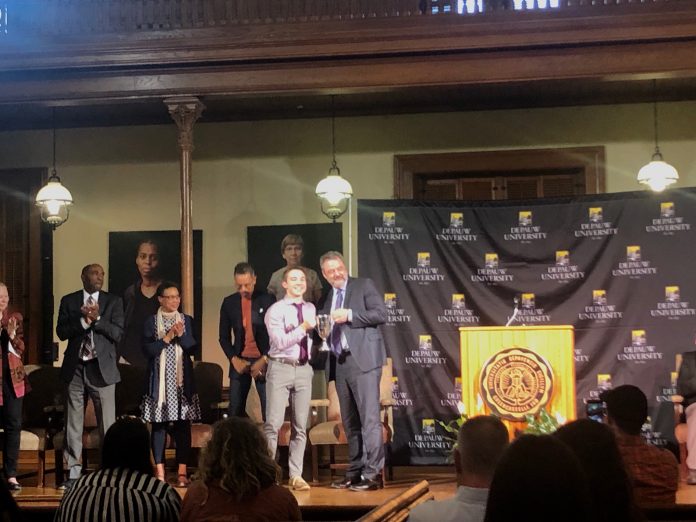 On Monday night, Liam Byrnes was selected as the recipient of the 2019 Walker Cup award from a pool of four finalists.
The annual award is given to the senior who has been determined to have done the most to advance the interests of DePauw University. Finalists are typically evaluated based on the tenets of good scholarship, good conduct and conscientious effort in collegiate activities.
While senior Liam Byrnes was the student awarded the Walker Cup, Dean of Students Myrna Hernandez highlighted the uniqueness of this year's finalists. "I think that this year's group is a very diverse group of candidates," Hernandez said. "There are a lot of different ways that this group of nominees has touched DePauw."
Below are the biographies and personal statements from each of the four distinguished candidates.
Angelique Serrano:

Angelique Serrano is a Posse Scholar, as well as a Communication and Theatre major with a double-minor in Education Studies and English Literature.
During her time at DePauw, Serrano has worked as a first-year RA, served as treasurer for the X-Cell dance team, served as president for Oxfam Club and participated in cheerleading. Serrano also worked with the Office of Admission to help plan DePauw's Multicultural Visit program.
In addition, Serrano is a member of Kappa Delta Pi, International Honor Society in Education.
"Being nominated and voted by my peers for this honor is validation that my work is recognized and has made an impact on my community," Serrano said about her nomination. "The experiences of students of color matter and I will continue to support marginalized groups within my career in higher education."
Tilly Marlatt:
Tilly Marlatt is a Media Fellow and ITAP Associate, as well as an English Writing major.
In her time at DePauw, Marlatt has been involved heavily in student media, serving on the board of directors for D3TV and WGRE and serving as an editor for The DePauw. Marlatt is also a proud member of her sorority, Alpha Chi Omega, and has served on the executive board as Vice President of Recruitment.
In her time with the ITAP program, Marlatt worked as Media Director for the Sustainability Leadership Program, even producing a documentary titled "Follow the Food," which explores local food movements on DePauw's campus.
On her nomination, Marlatt said: "I am honored and surprised to be named a finalist for the Walker Cup. I have watched countless students within the class of 2019 contribute to making the DePauw community the best it can be; therefore, it is an incredible distinction and privilege to be recognized for my actions.
Selke:
Selke is a Bonner Scholar, as well as a Religious Studies and Gender Studies double-major and French minor.
In their time at DePauw, Selke has served on the LGBTQ+ advisory board, held officer positions for United DePauw, served on the DePauw Dialogue committee, acted as Vice President of Community Relations for DePauw Student Government and interned at the Women's Center.
During their time as a student, Selke found ways to to make DePauw's policies more comprehensive for transgender students. In 2017, Selke and another student submitted trans-inclusive practices to DePauw administration.
Selke has also been initiated into multiple honor societies including Theta Alpha Kappa, Pi Delta Phi and Mortar Board, and they have completed over 2,000 hours of local community service.
"To be considered for such an award is so very humbling and excites me for the future of DePauw," Selke said. "To be recognized by being in this group of nominees reminds me how diverse and impactful our experiences are at DePauw."
Liam Byrnes (Recipient):
Liam Byrnes is an Honor Scholar, as well as a Musical Arts major and Political Science minor.
In his time at DePauw, Byrnes has worked as an admissions ambassador, served as a first-year mentor and Peer Mentor Program Specialist, as well as participated as a committee member and intern for the Green Dot Program.
Byrnes also has been active in the broader Putnam County community, serving as a Court Appointed Special Advocate for abused and neglected children, establishing a free legal clinic at the Putnam County Courthouse and teaching at the Indiana Women's Prison and Putnam County Correctional Facility.
In addition, Byrnes is a proud member of Pi Kappa Lambda, Pi Sigma Alpha, Order of Omega and Delta Upsilon.
On receiving the Walker Cup, Byrnes said: "It was an honor to be nominated for and win an award that has such a long history at DePauw. Though I think quantifying one's contributions to DePauw is an impossible task, it meant a lot to celebrate the ways myself and the other finalists have tried to make this institution a better place for all students."