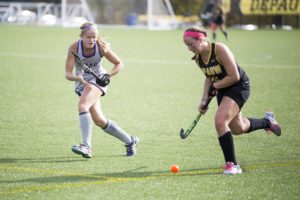 Since coming on as head coach lowercase title in 2015, Erika Dombkowski has continued the winning traditions of DePauw field hockey.
But after winning conference in Dombkowski's first year, the Tigers took a small step back last season, falling to Kenyon College in the NCAC Championship 2-1 in overtime.
For a program that's put together winning seasons year after year, the team's success is now measured by what happens in the postseason.
With a strong lineup in place, the Tigers are set for another conference championship and a deep run in the NCAA Division III tournament.
Key losses: Defender Sofia Carretero, Defender Annie Wyman, Midfielder Addie Ball
What to Watch For: After losing only three starters, this year's talented senior class that includes forward Paige Berliner, defender Grace Waldman, and forward/midfielder Reilly Bruce will look to make its mark in program history.
Best Case Scenario: The senior class leads the Tigers to a conference championship and past the first round of the NCAA Division III Tournament.
Worst Case Scenario: After putting together another strong regular season, the Tigers struggle in the NCAC Tournament for the second year in a row, leading to another disappointing finish.