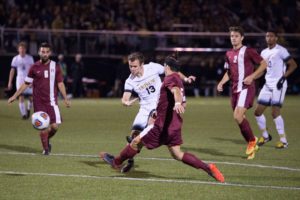 It's conceivable that losing 7 of 11 starters could instill expectations of a rebuild or transition for the men's soccer team. However, the word "rebuild" doesn't seem to be in the team's vocabulary.
After coming off of a second straight NCAA tournament run, Head Coach Brad Hauter expects nothing less than that level of success out of his squad again this season.
"Talent wise, we are no different from other years. The difference will be in how we play and what tools we have at our disposal," said Hauter.
Two of those tools Hauter had to work with last year were seniors. Julian Gonzalez and E.J. Moore. Gonzalez led the team in goals and points, broke the school's all-time scoring record, and was named second team All-American. Moore led the charge in the midfield and was the field general for the team, earning All-Region honors.
The Tigers return four starters and a handful of players with experience and ambition to make their mark on the squad.
Key Losses: Forward Julian Gonzalez, midfielder E.J. Moore, midfielder Chase Rollins, Forward Jonathan Wheeler, Forward Zach Hoffman, Goalie Harrison Glover
What to Watch For: A balanced and potent attack culminating in multiple goals for multiple players.
Best Case Scenario: It's hard to argue that anything short of another run in the NCAA tournament is the ceiling for this squad.
Worst Case Scenario: The team fails to generate enough offense and finds themselves hovering around .500 and possibly missing out on the conference tournament.