September is here and the weather is getting cooler. While autumn brings beautiful scenery and stylish outfits (hello, sweaters!), the best part of this time of year is the music. Here are ten songs that encapsulate the feeling of fall and will automatically enhance your September playlist.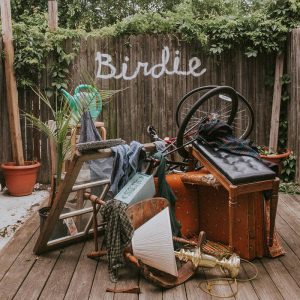 1. "Gold and Green"
-
Slaughter Beach, Dog
"Gold and Green" is a great way to start off this playlist, in part because of the vivid color imagery found in the title and reflected through the song. The cheery, acoustic guitar-driven track is perfect for peaceful drives through town or while cranking out an essay. Though "Acolyte" has made its rounds on TikTok lately, "Gold and Green" is a quiet star of Slaughter Beach, Dog's sophomore album, "Birdie". If you're a fan of this track, they also have a new album set to be released on Sept. 22.
2. "Summer's Gone"
-
Jackopierce
Jack O'Neill and Cary Pierce state it best in this song: "Summer's gone with a wave of hands." The song is an acknowledgement of a relationship that is doomed to fizzle out as fall approaches. However, it's hard to be sad while listening to O'Neill and Pierce's brilliant harmonies, as well as the insane, albeit quiet, acoustic guitar solo at the end.
3. "You Don't Know Me"
-
Ben Folds (ft. Regina Spektor)
The way in which Ben Folds' and Regina Spektor's voices blend in the snappy "You Don't Know Me" is mesmerizing. Chances are that you have heard this song at some point or another, but it is always worth revisiting. It's the perfect duet to jam along to in the car with your best friend!
4. "Sincerity is Scary"
-
The 1975
From the second you hear the horns come in, you will understand why "Sincerity is Scary" was chosen here. With cheeky lyrics and a jazzy feel, this song is ideal for mid-day walks across campus, as you admire the changing leaves and see all your friends. Plus, it's a great way to gear up for their November concert in Indianapolis. For an extra pick-me-up, check out the music video, which is chock-full of easter eggs for fans of the band, as well as dance sequences and even a nod to Michael Jackson.
5. "Do Me a Favour"
-
Arctic Monkeys
A darker-sounding addition to the playlist, "Do Me a Favour" is perfect for those chilly autumn nights as you hole up with a good book at Roy O. West Library, walk to Hoover for late-night chicken tenders, or pull an all-nighter in your dorm room to study for midterms. If you're looking for moody, distorted basslines, then this song is guaranteed to get you through your late night autumn blues.
6. "Hate To See Your Heart Break"
-
Paramore
Paramore is best known for their loud and angry rock sound, especially highlighted in their early albums "All We Know is Falling" and "Riot!". In "Hate to See Your Heart Break," however, frontwoman Hayley Williams sheds her powerful belting voice to reveal a sweeter, softer tone. The song also features backing vocals from Joy Williams, formerly of The Civil Wars, who brings a folk feel that fans of almost every genre can appreciate.
7. "Undone (The Sweater Song)"
-
Weezer
"Undone" is an obvious choice for many reasons, the main of which being that September brings perfect sweater weather. Even then, it's still a great song on its own merit. The five-minute track includes many iconic elements, such as infectious gang vocals, dialogue of friends making party plans, and an instrumental buildup for the ages.
8. "St Clarity"
-
The Paper Kites
One of The Paper Kites' most popular songs, "St Clarity" is an introspection into finding clarity in a situation and the relief that comes along with that. The track itself does indeed bring relief: the folky banjo gives way to beautiful harmonies, making this the perfect song to fall asleep to on those peaceful autumn nights.
9. "All Too Well (Sad Girl Autumn Version)"
-
Taylor Swift
No fall playlist would be complete without a Taylor Swift song, as she has an arsenal of fall-themed tracks (and even albums). Even though the two other renditions of this song are incredible, "All Too Well (Sad Girl Autumn Version)" was the obvious choice—it specifically mentions autumn! This stripped back, acoustic version allows for Taylor's vocal emotion to shine through. Pair "All Too Well" with a Taylor's Latte (a caramel nonfat latte) from Starbucks, and you're sure to have a memorable autumn—hopefully with less heartbreak than the song conveys!
10. "Rome"
-
Phoenix
There is no better way to round out this list than with one of Phoenix's most underrated songs. The first half of "Rome" features muted guitars and catchy drum beats, but the real beauty of the song lies in the post-chorus instrumentals. "I stand outside under broken leaves," frontman Thomas Mars coos, "I thought I couldn't do this without you." It's a bittersweet lyrical story of love and yearning, making metaphorical parallels to the fall of the Roman Empire. As you navigate the first few months of school, "Rome" will undoubtedly make you feel like the main character.