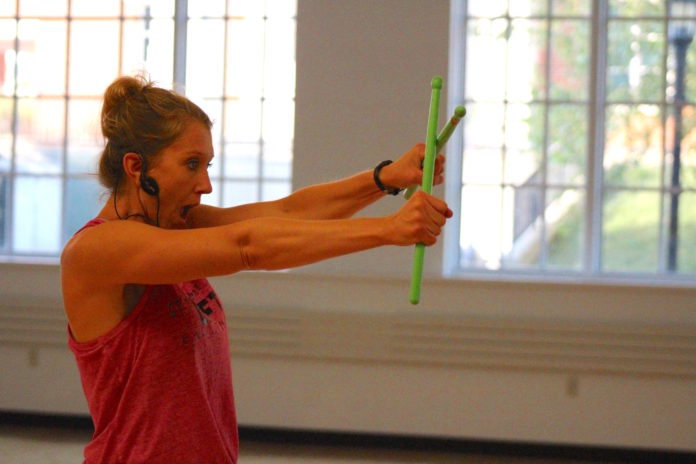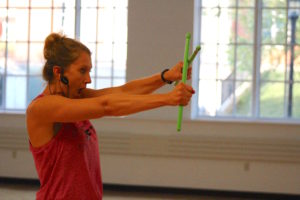 The first time I heard about Pound Fit was during a meeting at The DePauw about two weeks ago. I was sitting in the meeting, not paying too much attention if I'm being honest. But when I heard mention of "a new workout class" I immediately snapped to attention. This new class was called Pound Fit, but no one in the room seemed to know much about it other than it involved drumsticks. Immediately my interest was sparked, and I knew I had to try it out.
After the quick walk from my dorm, I arrived at Lilly and easily found the classroom where the class was being held. I was immediately greeted by the perky, blonde instructor, who I noticed appeared to be in extremely good shape, indicating that (fingers-crossed) this class gets good results. When I told her that I had never taken Pound Fit before and was absolutely clueless to what it entailed, she seemed surprised, but excited to have a newcomer in class.
She helped me to get set up for the class and gave me a mat and a set of fluorescent green plastic drumsticks. Looking at those drumsticks, I knew I was in trouble.
At 12:30 p.m. on the dot, the instructor shut the door and cranked up the music, indicating that class was about to start. As I looked around the room at the six other people taking the class, I noticed two things: one, they were all women, and two, none (except myself) were DePauw students. Much to my chagrin, I quickly realized that they all had clearly taken the class before and knew exactly what they were doing.
The exact structure of the class is still a bit unclear to me, but what I can tell you is that you dance the entire time. It came off as a hybrid between Zumba and Pilates, with the surprising addition of the drumsticks. Each song had a different routine that corresponded to the music. A few of the major aspects of the workout were squats, pulses, and lunges. The trickiest part was being able to do these things while simultaneously smacking your sticks together and on the floor. The best advice the instructor gave me was to focus less on the sticks for my first class and more on the body movements. Unexpectedly, I did have to set my sticks down several times throughout the class.
Now back to these sticks. According to the Pound Fit website, these drumsticks, known as Ripstix, are specially designed to add ¼ lb to every movement in order to throw off your body's equilibrium, forcing you to tighten up and engage muscles more to restore balance. You use the Ripstix in every song, but in different ways each time: sometimes pounding the floor with them mid-squat, sometimes playing air drum or smacking the sticks together to the rhythm of the music.
You may be thinking: why drumming? Well, according to the Pound Fit website, the rhythmic drumming engages your brain to focus, boosts the immune system, lowers blood pressure, and helps to decrease chronic pain, anxiety and fatigue. So Pound Fit is not only a great way to get out some pent-up aggression, but it also has documented benefits to your physical and mental wellbeing.
All in all, I would try Pound Fit again. I really enjoyed leaving the class feeling sweaty and out of breath, yet still like I just did something fun. My advice to you would be to go try a Pound Fit class, if not because you love exercise classes, than because it is a great chance to get out of your comfort zone while doing something good for yourself.
Pound Fit classes are held on Tuesdays from 5:45- 6:30 p.m. and Thursdays from 12-12:30 p.m. in Lilly 1025. Pound Fit classes, as well as all other exercise classes, are free to students with their student ID.