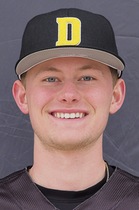 Senior baseball pitcher Grant Rademacher recorded the win in DePauw's 10-1 win over Mount St. Joseph's College. He pitched seven innings, while only allowing four hits and one run. He recorded seven strikeouts in the game without suffering a walk. He was named the North Coast Athletic Conference Player of the Week, and he is this week's Tiger of the Week.
TDP.) You pitched seven innings, gave up four hits, one run and recorded seven strikeouts. What allowed you to be so effective?
GR.) Throwing first-pitch strikes was really what set the tone. There's some crazy statistic where every time a pitcher throws a first-pitch strike, the likelihood of the batter getting a hit during that at-bat is around 25 percent. Throwing strikes, great defense, and of course, I have to shout out the offense for giving me some run support.
TDP.) What are your goals for the remainder of the year? Individually and as a team?
GR.) Individually, my goal is to compete every time I'm on the mound and play each game like it's my last. It's my senior year, so I am going to empty the tank. As a team, our goal is to win the NCAC Conference Tournament. Advancing to Regionals is tough for any team to do, but I believe we have what it takes.
TDP.) What made you fall in love with baseball?
GR.) I really enjoyed being outside, especially during the summer. Little League baseball was some of the best times of my life. Almost every kid my age played Little League baseball. From there on out, I just stuck with it and kept having fun.
TDP.) Did you always know you were going to play baseball in college?
GR.) I wasn't really recruited out of high school and actually had a backup plan to attend [Indiana University] with the rest of my friends, but luckily, I was given the opportunity to play at DePauw late into my senior year. It was a close one.
TDP.) Do you try to model your game after any baseball player?
GR.) Not many people know who he is, but I pay a lot of attention to Cleveland Indians right-handed pitcher Trevor Bauer. Not only is he one of the best pitchers in the MLB, but he's very active on social media and always posts videos of himself training.