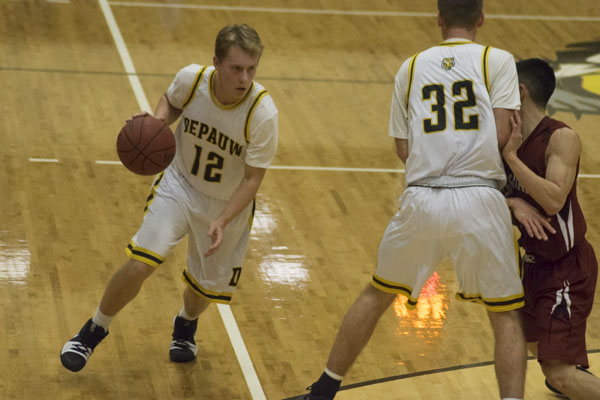 The Tigers lost 66-84 in the Midway Classic Championship game against St. Thomas University on Nov. 24.
The Tigers started strong with a 7-0 lead. Junior Josh Hall led the offense with a quick 5-point streak in the first three minutes. Senior Luke Steinhart made defensive highlights with his steals and rebounds. Quick ball movements helped DePauw create spaces and find open shots both in the paint and behind the 3-point line.
St. Thomas did not let DePauw widen the lead. The game went on with back and forth baskets from both teams. St. Thomas was more effective as bench players fired shots from both short and long range. The pressing defense from the Tommies forced eight turnovers from DePauw in the first half.
St.Thomas took their first lead at the 10-minute mark. Their quick transition game helped them score many points from fast breaks. DePauw fought back with 3-pointers but gave up easy baskets for their opponents. The first half ended 41-27 for St. Thomas.
The Tigers chased after the Tommies while being led by double digits. The offense kept them in the game with accurate shots, raising shooting percentage to 58%.
First year Elijah Hales played a good second half coming from the bench. He scored 11 points with 67% shooting. "My shots came as a function of our offense," he said. "All I had to do was make them when they were there. Hitting a couple threes is nice because it forces the defense to chase and lean a little more toward me while others are posting up or attacking."
DePauw played defense better in the second half, forcing eight turnovers from St. Thomas and recording five steals. However, the Tommies did not top scoring. The rotation between starters and bench players made their offense unpredictable, leading to scoring streaks.
DePauw could not lessen the deficit due to St. Thomas's hot 3-point shooting.
"St. Thomas is hard to guard because everyone on the court for them can hit the three and drive the ball well," Hales said. "They were hot from distance last night, and we also had trouble guarding on the perimeter."
St. Thomas won the game 84-66.
Josh Hall was the leading scorer despite playing only 20 minutes. "We're a very deep team with a lot of different guys that can contribute to our success," Hall said about his time limit. "One of our strengths is that we can have any number of different players in the game and still be productive."
While St. Thomas's offense had a good game, DePauw did not do their best on the defensive end. They let St. Thomas get easy baskets as the Tommies as 26 points off turnovers. "My main takeaway from the game is that we still have a lot to improve," Hall said. "Some things that stood out to me that need improvement are our defensive intensity and willingness to rebound the ball."
DePauw will host Kenyon College for their first conference game of the season on Dec. 1 at 2 p.m.