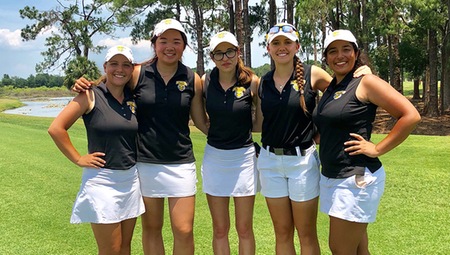 Men's Golf:
Depth and strong senior leadership is what head men's golf coach Vince Lazar focused on while giving his predictions for the team's 2019-20 season.
He is confident in the team's potential, saying, "This team will challenge for a conference championship and a spot at nationals."
The team has a lot of depth, Lazar explained, because no seniors graduated last year. 
Lazar also said first-years Caleb Bopp, Marcus Tan and Drew Hudgins are standouts.  
Seniors Nick Burris and Luis Esteban talked about their predictions for the season and the team's atmosphere.
"I think our team this year is capable of a lot," said Burris. "With a solid base of seniors and some freshmen that have already proven they can contribute makes me think we have a chance to win conference this year." 
Esteban focused on team culture, saying, "We have a team culture that is fun. Golf can be a harsh sport mentally, both in competition and practice, being able to have fun while playing and hanging out together after rounds definitely contributes to a better attitude as a team and it makes working hard a little easier."
The seniors also pointed out that the teams' depth is contributing to healthy competition between players.
"We have a lot of members on the team fighting for a few spots on the travelling roster, meaning that competition is pushed to a high level throughout practice, and especially on qualifiers and tournaments'" said Esteban.
The men's golf team plays again this weekend at the Benedictine Midwest Invitational.
Women's Golf
Coming off of a strong spring season, head women's golf coach Vince Lazar was more conservative in his predictions for the women's golf team.
"Looking at the D III landscape regionally, we will be competitive and should challenge for the conference title," said Lazar. "Though not as experienced as last season, still a talented team with a passionate, hungry attitude."
Part of this restraint is tied to the graduation of two key players in the spring. 
"Larisa Luloff, National Player of the Year, and Rachele Miller, All-American, had huge contributions on and off the course. However, they set a great example the returning players benefitted from," said Lazar.
Seniors Frankie Bell and Anna Foley talked about what they're most looking forward to this season.
"I'm most excited for competing in my last fall home tournament with awesome teammates," said Bell.
Foley described the great relationships between players. 
"There is a special relationship that golfers have with one another, kind of like a deep understanding of the best and worst parts of the sport that overall brings you closer together," said Foley. 
She continued, "We believe that these relationships, through trust and support, that we have built with one another really can contribute to our success in tournament play. There is nothing more comforting than knowing that someone will be there waiting for you when you walk off the course, whether it is to lift your spirits or to celebrate the great round."
The women's golf team plays again this weekend at the Illinois Wesleyan Fall Classic.