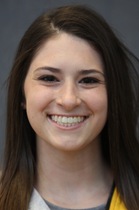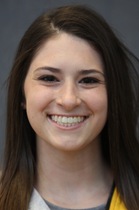 "Small but mighty" is the general theme among many of DePauw University's Division III athletic teams but none quite to the same degree as the women's diving team. Comprised of sole member Katherine Douglas '21, the women's diving team has fluctuated significantly in numbers over the years, but for the 2018-2019 season, Douglas will represent DePauw on her own.
As a first-year, Douglas was guided by two senior divers, one on the men's team and one on the women's, so it has taken some adjusting this year as both the only women's diver and the only returning athlete in the entire diving program.
Douglas is more confident, however, because when she first got to DePauw she had never done three meter diving, which is one of the two events DePauw divers compete in. She added that she is working with her coach to navigate being the only member of the women's diving team.
But diving program is in no danger of suffering from its diminished size this season, and her coach said Douglas has both the talent and the experience to lead the team even as a sophomore. "It's not what I would say is ideal," Head Women's Swimming and Diving coach Shea Davisson said. "I think she's definitely got leadership qualities. Even interacting with her own sophomore class, I've seen her stepping up and taking responsibility."
Although she has only one season of collegiate diving under her belt, Douglas has experience stretching from beyond her DePauw years. "I started diving my sophomore year of high school," Douglas said. "I was actually a gymnast for eleven years before I started to dive, and I only started because my school didn't have any divers and I had a friend on the swim team."
She ended up going to her state meet three different times in high school and was a three-time conference and sectional champion in Illinois. Douglas also came only ten points short of the national benchmark at conference last year at the collegiate level, placing fifth.
Both Douglas' experience in gymnastics and diving competition have helped her in her college career. "With gymnastics, I'd already learned how to flip, twist, and do different drills that helped me with air awareness, so that helped a ton," Douglas said. "They both require a great amount of precision and balance, which has been very helpful as well."
Coach Davisson agrees, "It translates really well. I think that the type of skills that (gymnasts) have translate very well into diving. It's about 50/50 that (successful collegiate divers) have gymnastics backgrounds."
Apart from the obviously large responsibility of leading the team as a sophomore, Douglas' experience with DePauw athletics has been relatively normal. "My diving coach lives in Indy and comes here three times a week," Douglas said."The other days, though, I lift with the swim team, do dry land with the swim team, and try to stay as integrated with them as possible."
Despite the size of the team, Douglas is confident in the potential of this team. "We're not going to slack off," Douglas said. The men's and women's diving teams are practicing every day, training hard, and are looking forward to conference and maybe even regional success this season.