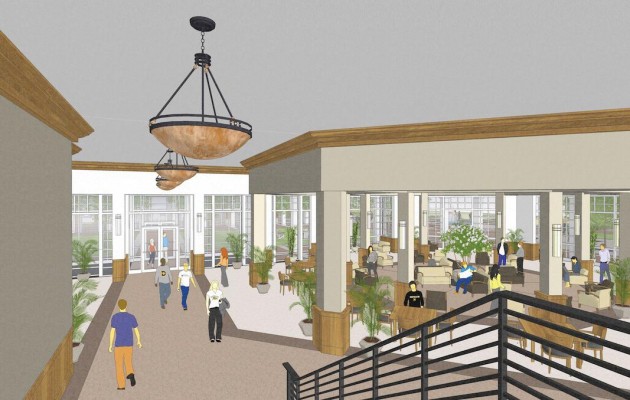 President Brian Casey announced Monday that Allan and Kathryn '74 Hubbard have donated $5 million to create a new center for student engagement and career planning.
The new center will change the Office of Civic, Global, and Professional Opportunities (CGPOpps), which is currently in the Union Building, into the Kathryn F. Hubbard Center for Student Engagement. It will be located in the area that is currently the Hub dining vicinity and former bookstore.
The new center will be one of the first of its kind for liberal arts schools, said dean of Experiential Learning & Career Planning Raj Bellani. Bellani thinks this new addition will be a "signature aspect" in placing DePauw among the top liberal arts colleges in the nation.
"DePauw has always taken seriously how to best help graduates succeed before and after college," Bellani said. "And this gift is now going to create a central place for students to have constant support in career planning, off-campus study, community service and other areas that we would currently would like to offer, but have not had the resources to do so."
Bellani said he understands that alumni sometimes need support in the first few years after graduation and is confident that this new center will provide further assistance.
Such professional advising will help students not only interested in law and medical schools but also in fields such as dentistry, veterinary schooling and other graduate school opportunities.
In a letter to faculty and students, Casey said he believed "this new center will strengthen the very mission of our university: the preparation of our students to be engaged, educated leaders in a complex world."
The new center will be located in what is now the Hub's dining area. The newly-announced dining hall, donated by Dave and Suzanne Hoover '67, must be completed before the Hubbard Center can be established.
However, Hubbard noted that programming will begin before the renovations are complete. Services will take place in the area that used to be the bookstore in Sept. 2013.
Bellani notes that the central location of the new center will be a hallmark destination on campus - especially for prospective students.
Hubbard and her husband envision a program that will aid students in exploring all the possibilities available to them both as a student and as an alum.
"We did feel that there needed to be something more for students to navigate their way through DePauw - to really help them take advantage of all the opportunities open to them," Hubbard said.
The majority of the donation will go toward the construction and renovation of the center, according to Christopher Wells, vice president for Communications and Strategic Initiatives. Hubbard said she hopes leftover money will be used for programming and staffing.
Hubbard said she understands the importance of connecting one's passions to their future careers.
"It's often through these experiential things that you figure out what you do enjoy," Hubbard said.
Hubbard is a member of the university's board of trustees and the co-founder of Bridges of Understanding, a nonprofit nonpolitical group dedicated to fostering better understanding between the U.S. and the Arabic world. Her husband Al served as assistant to President George W. Bush for Economic Policy and as the director of the National Economic Council.
­- Ellen Kobe contributed to this article.